Longrifle Articles, Volume 2,
published in Muzzle Blasts 1965 - 2001,
by the late Dr. George Shumway
These are the collected articles published in Muzzle Blasts, the magazine of the National Muzzle Loading Rifle Association. Soft cover, 252 pages, black and white photos.


Table of Contents:


Maryland
New York - New England
Ohio
North Carolina
Virginia
Southern Rifles
Transition & Rifles of Uncertain Origin
Trade Guns & Hawken
Europe
Locks, Patchboxes, & Cheekpieces
Additional Articles of Note
Maps


ISBN 0-87387-112-X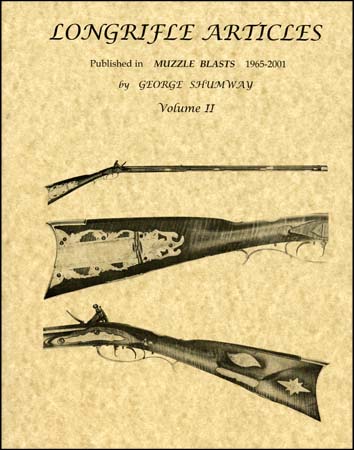 Track of the Wolf, Inc.
18308 Joplin St NW
Elk River, MN 55330-1773
Copyright © 2021Track of the Wolf, Inc.