Joe Meek,
The Merry Mountain Man
by Stanley Vestal
A tall man with long black hair, smooth face, dark eyes, full of life and fun, that was how a contemporary described Joe Meek. This famous trapper, pioneer, Indian fighter, peace officer and frontier politician was a lover of practical jokes, Jacksonian democracy, and Indian women. A companion of Kit Carson and Jim Bridger.

The Table of Contents includes the following:
Part 1: Greenhorn

Chapter 1 The Mountain Men
Chapter 2 The Runaway
Chapter 3 The Trail to the Mountains
Chapter 4 Rendezvous

Part 2: Trapper

Chapter 5 The Grand Teton
Chapter 6 Up to Beaver
Chapter 7 Lost in the Snow
Chapter 8 Colter's Hell
Chapter 9 Buried Alive
Chapter 10 The Fight for Fur
Chapter 11 Blackfoot Scrape
Chapter 12 Battle of Pierre's Hole
Chapter 13 Meat's Meat
Chapter 14 Ride to Monterey
Chapter 15 Mule Fort
Chapter 16 Rough and Tumble
Chapter 17 The Mountain Lamb
Chapter 18 Preachin' in Jackson's Hole
Chapter 19 Crow Captive
Chapter 20 Fighting Fire
Chapter 21 Narcissa
Chapter 22 Fightin' B'ar and Blackfeet
Chapter 23 Blood in the Sky
Chapter 24 Meek Womans Again
Chapter 25 Muzzle to Muzzle
Chapter 26 Squaw Tracks
Chapter 27 Preachin' for a Wife
Chapter 28 The Last Rendezvous

Part 3: Patriot

Chapter 29 Oregon or Bust
Chapter 30 Massacre
Chapter 31 Envoy Extraordinary
Chapter 32 The Man from Oregon
Chapter 33 U.S. Marshal
Chapter 34 Soldier
Chapter 35 "Uncle Joe"

Bibliography


ISBN: 0-8032-5206-4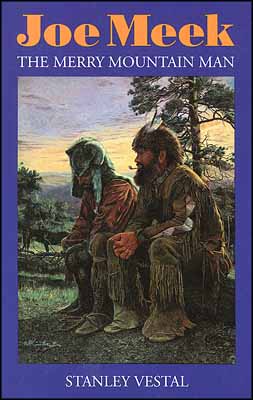 Track of the Wolf, Inc.
18308 Joplin St NW
Elk River, MN 55330-1773
Copyright © 2023Track of the Wolf, Inc.