Iroquois Crafts
by Carrie Lyford
Photos of original buckskin shirts, coats, quilled bags, moccasins, and woven yarn sashes are very interesting. Bead, bone and clay work designs and specimens are illustrated and described in 98 pages. Soft cover volume, 5-1/2 x 8-1/2 format, with 69 illustrations. Nineteen additional plates show several design patterns.

The Table of Contents includes the following:
Illustrations
Introduction
Habitat

Villages
The Longhouse
Single Family Dwelling

Foods

Securing and Preparing
Cooking
Obtaining Fire for Cooking
Preservation and Storage of Food

Clothing and Accessories

Woman's Costume
Man's Costume
Moccasins
bags
Woven Yarn Shirts

Secret Societies and Ceremonies

Secret Medicine Society
Falseface Company

Carved Masks
Corn Husk Masks

Dance Costumes

Flageolet
Water Drums
Rattles

Games and Sports

Ball Games

Double-Ball
Lacrosse
Shinny

Games of Chance

Peach Stone or Dish Game
Deer Button Game
Ring, or Cup, and Pin Game

Hoop Games

Hoop and Javelin Game
Hoop and Dart Game
Hoop and Pole Game
Snow Snake
Target Shooting
Throwing the Arrow

Ancient Crafts of the Iroquois

Use of Antlers, Stones, Bones

Implements
Decorative Articles
Weapons

Use of Shells

Beads
Runtees
Wampum
Wampum Strings or Strands
Wampum Belts

Use of Clay
Use of Bark

Containers
Canoes
Rope Making
The Burdent Strap or Tump Line
Litter Basket or Burden Frame

Use of Wood

Baby Carriers
Baskets
Basket Techniques
The Dug-out Canoe
Mortar and Pestle
Spoons and Ladles
Snowshoes

Use of Corn Husks and Corn Cobs

Corn Husk Mats
Corn Husk Dolls
Apple Face Dolls

Use of Silver
Tanning Hides

Decorative Arts

Moose Hair Embroidery
Quill Work
Bead Work
Ribbon Work
Table Cloths, Bed Spreads, Blankets
Designs

Quill and Bead Designs
Beaded Border Patterns
Beaded Edging
Embossed Beading

Symbolism in Designs
Colors Used in Handicraft Work
Dyes and Their Preparation
Conclusion

Bibliography


ISBN: 0-936984-02-3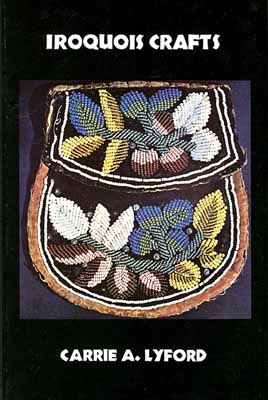 Track of the Wolf, Inc.
18308 Joplin St NW
Elk River, MN 55330-1773
Copyright © 2021Track of the Wolf, Inc.