Hand Rifling a Muzzle Loading Barrel at Home
by Mark Wagner
Cutting spiral grooves inside the barrel is now within the grasp of the serious home craftsman. In eleven chapters, the author explains the theory of rifling and styles of grooves, building a suitable rifling bench, drilling, straightening, reaming, rifling, lapping, and breeching the barrel. Proof testing and safety issues are emphasized.

If your rifle barrel will not shoot accurately, due to wear, neglect, rust, pitting, or perhaps a new barrel with some invisible factory flaw, you may be ready to order a new barrel. Try lapping the bore! The author explains how to make a lapping rod to polish the rifled bore, new or old. A bit of clever lapping can often restore a bore to its best accuracy potential.

Soft cover spiral bound volume of 54 pages, 8-1/2 x 11" format, illustrated with drawings of the tools and techniques, followed by photographs of the actual tools in use. Photos of targets, with details of the charges fired in these hand rifled bores, prove their worth.

The Table of Contents includes the following:
Chapter 1 Theories and styles of rifling
Chapter 2 Building the bench for drilling, reaming, and rifling
Chapter 3 Measuring the bore of a barrel
Chapter 4 Choosing barrel blanks
Chapter 5 Enlarging the bore size by drilling
Chapter 6 Reaming the bore to desired caliber size
Chapter 7 Straightening the barrel
Chapter 8 Rifling the barrel
Chapter 9 Lapping the finished rifle barrel
Chapter 10 Breeching the barrel
Chapter 11 Proof testing and shooting the finished rifle barrel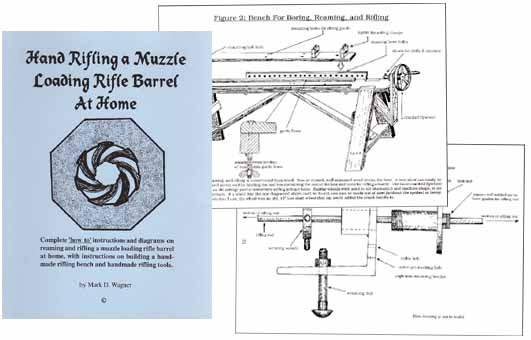 Track of the Wolf, Inc.
18308 Joplin St NW
Elk River, MN 55330-1773
Copyright © 2023Track of the Wolf, Inc.