| | |
| --- | --- |
| Handy Farm Devices and How to Make Them | |
A classic from the Golden Age of American Farming, is as useful and pertinent for homesteaders and small scale-farmers today as it was when it was first published more than seventy year-five years ago. A wealth of labor and money-saving projects fills its pages: spill-proof chicken waters; a portable chicken coop; a lightweight orchard ladder; a small truss bridge; an easy fence-post and stump-puller; gates that don't sag; gates that lift over snowdrifts; a handy wood splitter - even a bicycle-powered washing machine.

The Table of Contents includes the following:
Workshop and Tools
The Steel Square
In and Around the House
Barns and Stock
Poultry and Bees
Garden and Orchard
Field and Wood
Gates and Doors
When We Build
Worth Knowing


ISBN: 1-55821-432-1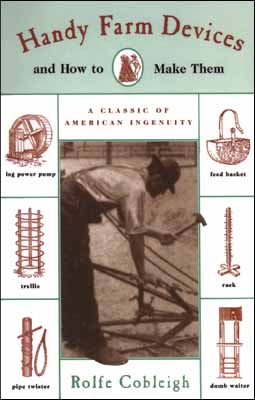 Track of the Wolf, Inc.
18308 Joplin St NW
Elk River, MN 55330-1773
Copyright © 2022Track of the Wolf, Inc.