Firearms, Traps & Tools of the Mountain Men
by Carl P. Russell
We recommend this book to any serious buckskinner researching ideas for authentic camp accoutrements. This book is your guide to the guns and gear of the trappers, hunters and fur traders who explored and opened the Old West. Pictures and text describe the early period of 1820 through 1840. Softbound, 448 pages.

The Table of Contents includes the following:
Chapter 1 The Mountain Men In American History
Chapter 2 Firearms Of The Beaver Hunters
Chapter 3 Beaver Traps And Trapping
Chapter 4 Knives Of The Frontiersmen
Chapter 5 The Ax On America's Frontiers
Chapter 6 Miscellaneous Iron Tools That Went Into The West
Chapter 7 Irons In The Fire
Appendix A Historic Objects as Sources of History
Appendix B John Jacob Astor's Inventory of Tools and Blacksmithing Equipment on the Columbia River, 1812-1813
Appendix C Markings on Axes and Tomahawks
Appendix D Representative Fur Returns, American Fur Company, Indiana, 1839-1841
Bibliography
Index


ISBN: 0-8263-0465-5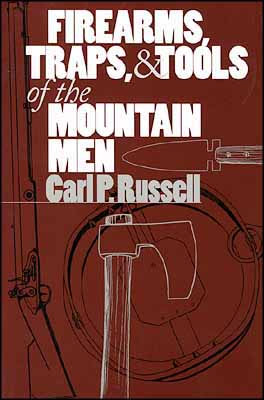 Track of the Wolf, Inc.
18308 Joplin St NW
Elk River, MN 55330-1773
Copyright © 2022Track of the Wolf, Inc.