Firepower from Abroad,
The Confederate Enfield
and
LeMat Revolver
by Wiley Sword
This affordable book studies the both the Confederate Enfield and Lemat Revolver. Hard cover, 7 x 9-1/2", black and white photos.

The Table of Contents includes the following:
Section 1 The Confederate Enfield

Introduction
Initial Shipment
Heavy Shipments Begin
The Gladiator Enfields
1862 Arrivals
Battle Usage
The Confederate Enfield Profile
'JS' Anchor Markings
Other Related Markings
The London Armory Contract
Conclusion
Appendix I
Appendix II
Appendix III
Bibliography

Section 2 Caleb Huse and The Grapeshot Revolver

Correspondence On The LeMat Contract

Section 3 Confederate Ordnance Notes

New Data On A Variety Of Small Arms


ISBN:0-917218-23-X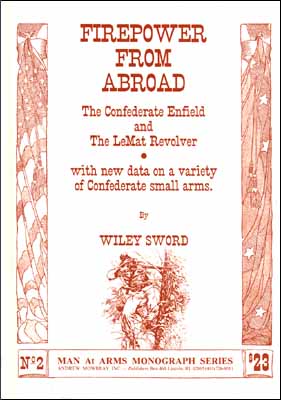 Track of the Wolf, Inc.
18308 Joplin St NW
Elk River, MN 55330-1773
Copyright © 2023Track of the Wolf, Inc.