Engraving Historic Firearms,
by John Schippers
The most authoritative book on hand engraving to come out in recent years, John C. Schippers' "Engraving Historic Firearms" contains all the information you need to learn how to engrave metal by hand. With over 50 years of experience as a gunbuilder and engraver, Mr. Schippers is an expert in all aspects of the craft. Now he shares his knowledge in this impressive book.

Soft cover, the 456 pages are spiral bound allowing the book to easily lay flat. Richly illustrated with quality color photos antique and reproduction firearms and illustrations of engraving techniques and designs.

Chapters include:


Tools and Equipment
The Square Graver
Hammers
Vision Aids
Holding Your Work<
Cutting Lines with the Square Engraver
Ending Your Cut
Ball End Cutting
Plunge Cuts
Blunt-End Plunge Cuts
Bright Cut
Cutting Shading Lines
Lozenge Engraving Cutters
Sharpening the Push Engraver
Cutting Nick and Dot Borders
Cutting Wavy-Line Nick and Dot Borders
Cutting Standard Borders

Plunge-Cut Border
Curving Line Border
Arrown Border
Running Leaf Border
Split Leaf Border
Rope Border
Pine Tree Border
Half Leaf Border
Double Half Leaf Border
Double Leaf Border
Octagon Border
Wiggle-Line Border

Getting the Metal Surface Ready for Engraving
Scrolls
Tendrils
Cross-Hatching
Leaves
Designing Your Engraving
Cutting the Design
Tranfering Designs
Engraving the Number-on Practice Design
Other Tranfer Methods
Example Guns 1 to 31
Cutting Out Inlays
Example Guns 14 to 19
Cutaway Backgrounds
Understanding Line Engraver Numbers
Example Guns 20 to 45
Matting Backgrounds
Example Guns 46 to 52
Border Samples
Power Engraving Systems/Tools
Example Guns 53 to 56
A Little More Food for Thought
Example Guns 57 & 58
Recommendations
Example Guns 59 to 64
Places to Obtain Tools, Supplies, and Service
Photography
More on the Author
Metal Processing Temperatures
Hardening, Tempering, and Temper and Heat Colors


The 456 pages contain over 2,000 color photos of antique and original engraved firearms as well as illustrations showing engraving techniques and hundreds of engraving designs. A must-have book for anyone interested in engraving or on fine engraved firearms.

Soft cover, 8-1/2" x 11" format, spiral bound, 456 pages, ISBN# 978-0-9770736-2-7.

By John C. Schippers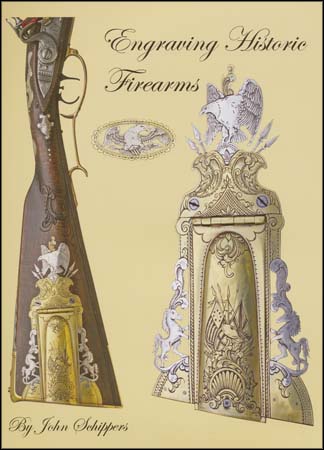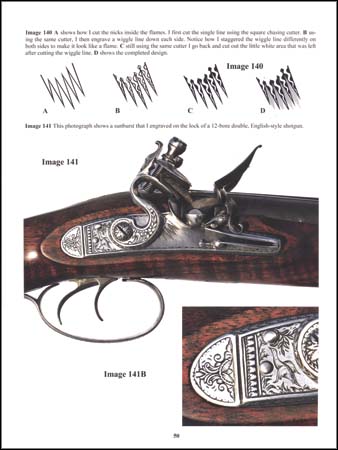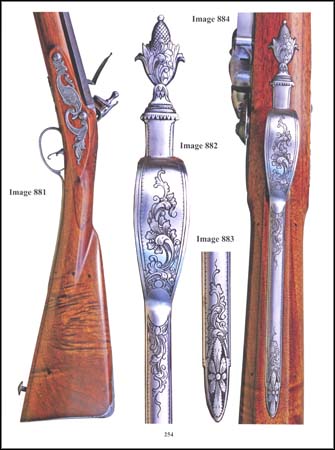 Track of the Wolf, Inc.
18308 Joplin St NW
Elk River, MN 55330-1773
Copyright © 2021Track of the Wolf, Inc.