European Arms in the Civil War,
The Imported Muskets, Rifles, Carbines, Revolvers and Swords of the Union and Confederacy
by Marc Schwalm and Klaus Hofmann
During the American Civil War, a surprising number of troops were armed with European weapons. The Union depended upon them heavily at least through the battle of Gettysburg, and the Confederacy relied upon these arms for the entire duration of the war. The authors use thirty years of experience to answer the question of which European weapons were used in the Civil War – and which were not. The result is an identification guide that shows what to look for, and what to avoid, in this challenging and intriguing field of collecting.

Over 190 black and white photos showcase a variety of European weapons used during the Civil War. Soft cover, 8-1/2" x 11", 192 pages.

The Table of Contents includes the following:

Introduction
1. The Purchase and Use of European Arms
2. Great Britain and Spain
3. The Austrian Empire and Piedmont-Sardinia
4. German Countries
5. France and Belgium
Endnotes


A must-have for the Civil War historian or firearms enthusiast!

ISBN: 978-1-931464-84-0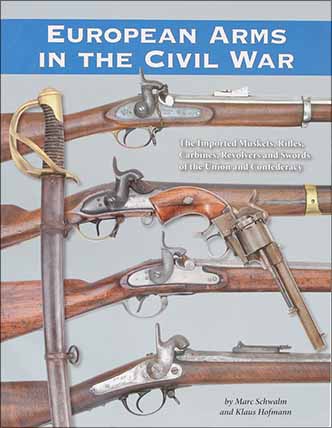 Track of the Wolf, Inc.
18308 Joplin St NW
Elk River, MN 55330-1773
Copyright © 2023Track of the Wolf, Inc.