Deerskins into Buckskins
How to Tan with Natural Materials, new updated and revised edition
by Matt Richards
A field guide for hunters and gathers. Over 130 photos and illustrations bring you step by step from raw skin to velvety soft buckskin and then show you how to create primitive garments and useful goods. Designed to be useful for the beginner, yet rich with details for the experienced. No chemical needed. All tools and materials are waiting around your home. Soft cover, in 5-1/2 x 8-1/2" format, with160 pages, well illustrated with photographs.

A DVD video companion to this book is also available, #DVD-DIB.

The Table of Contents includes the following:
What Exactly is Buckskin?
A Bit of History
Why Buckskin?
The Nature of Skin
How Tanning Works
Skinning
Obtaining Hides
Storing Hides
Tools You Will Need
The Basic Method

Fleshing
Bucking
Graining
Membraning
Rinsing
Wringing
Dressing
Sewing
Softening
Making a Smoking Sack
Smoking

Tanning Reference
Using Nature's Tools
Hide Glue
Rawhide
Making Stuff

Getting it Ready
Clothing Styles and Concepts
Simple Tailoring Tips
Working With Buckskin
Clothing Construction
Washing Buckskin

Thank You's
Resource Directory


ISBN: 0-9658672-0-X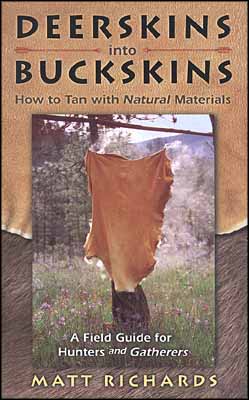 Track of the Wolf, Inc.
18308 Joplin St NW
Elk River, MN 55330-1773
Copyright © 2023Track of the Wolf, Inc.