The Deringer in America,
Volume One,
the Percussion Period
by R.L. Wilson & L.D. Eberhart
Sometime after 1825, a Philadelphia gunmaker named Henry Deringer developed a style of percussion pocket pistol so practical, compact and effective, that "Deringer's pistols" achieved worldwide renown to become "the deringer pistol" a specific type and style of pistol recognized wherever men knew guns. Volume one covers the percussion period. The reference material has been drawn from city directories, period advertising, and considerable study of pistols in private and public collections. Hardcover, 267 pages, 9 x 11" format.

The Table of Contents includes the following:
Forword
Introduction
Chapter 1 Deringers By Henry Deringer
Chapter 2 Deringers By Slotter & Company
Chapter 3 Deringer Copyists And Agents In The Northeast
Chapter 4 Deringer Agents And Copyists In The South
Chapter 5 Deringer Agents And Copyists In The Midwest
Chapter 6 Deringer Agents And Copyists In The West
Chapter 7 Foreign And Unidentified Deringer Copyists
Appendix The Modern Percussion Deringer
Bibliography
Index


ISBN: 0-917218-20-5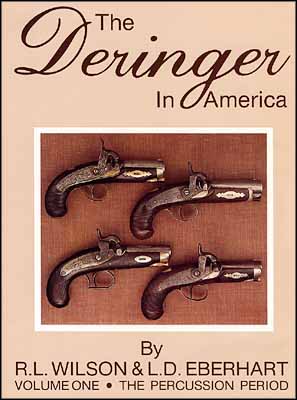 Track of the Wolf, Inc.
18308 Joplin St NW
Elk River, MN 55330-1773
Copyright © 2022Track of the Wolf, Inc.