Carbines of the U.S. Cavalry
by John D. McAulay
This exhaustively researched book covers the entire crucial period stretching from the beginning of the Civil War to the end of the cavalry carbine era in 1905. These carbines, and the men that carried them on horseback, played pivotal roles in some of the most exciting episodes in American history, including the War Between the States, the Indian Campaigns, Custer's Last Stand, the Rough Riders in Cuba, the Philippine Insurrection and the Boxer Rebellion. Every one of these popular topics is covered in this informative book, all illustrated with a generous selection of period and modern photos. 8-1/2 x 11" format, hardcover, 144 pages, with 127 photos.

The Table of Contents includes the following:
I. The Civil War Period 1861-1865

A. The Early Years, 1861-1862

Carbines in the Regular Cavalry at the beginning of the war
Inventory at Washington Arsenal December 18, 1861
Policy of December 18, 1861 to issue only 10 carbines per company
1861 State of Rhode Island procurement of Burnside Carbines
1861 State of Ohio procurement of Sharps Carbines
December 28, 1861 skirmish between N.B. Forrest Confederate Cavalry and the 3rd Kentucky Cavalry
1st and 2nd California Cavalry field service with Sharps Carbine 1862
1862 field service in Virginia and Kentucky
1862 State of Kentucky issuance by regiment
1862 State of Ohio issuance by regiment
1862 field report of unsatisfactory performance of Gallager Carbines
Colonel Taylor, 5th Ohio, requesting his regiment be issued Wesson Carbines
December 1862 Report of carbines in the various cavalry regiments

B. The Turning Point, 1863

Linder Carbines for 8th West Virginia Mounted Infantry
6,000 Amoskeag Linder Carbines Court of Claims Case
1863 Field Reports

Hall
Model 1862 Joslyn
Burnside
Gibbs
Merrill
Sharps & Hankins
Gallager
Smith
Spencer

1863 Cavalry Battles

Grierson's Raid
Brandy Station
Gettysburg
Morgan's Raid
Chickamauga

September 1863 Report of carbines in the various regiments

C. The Year of Attrition, 1864

Carbines in Arsenal & Depot Storage January 2 and November 5, 1864
1864 Field Reports

Spencer
Sharps
Ballard
Burnside
Starr
Gallager
Union (Cosmopolitan or Gwyn & Campbell)

1864 Campaigns and Battles

Yellow Tavern
June 30 Army of the Potomac Cavalry Corps Ordnance Stores
Atlanta Campaign
Valley Campaign
Adobe Walls

1864 Confederate Inspection Reports for Bedford Forrest
Summer & Fall inventory reports of various cavalry and mounted infantry regiments

D. The End of Hostilities, 1865

Eastern & Western Military Dept. March 1, 1865 Carbine Inventory
Appomattox Campaign (Dinwiddie Court House, Five Forks, Saylor's Creek)
Wilson's Selma Campaign
Regimental Inventories of Sharps, Burnside, Spencer Carbines
Blakeslee Cartridge Boxes
Field Service (Spencer, Ballard, Rimfire Gallager, 2nd Model Maynard, E.G. Lamson's Ball & Palmer, Remington, Rimfire Starr, Triplett & Scott, Warner)
Spencers for 6th U.S. Cavalry

E. Government Disposals

Sales at Harpers Ferry - September 1865
Sales at Leavenworth Arsenal - November 1867
Sales of Starr Carbines - 1865-1869
Sales to Argentina - January 1869
Ordnance Sales at St. Louis Arsenal - April 1869
Sale of Spencer Carbines, New York Agency - October 1870
Disposal of Spencer Ammunition from New York Agency - September-December 1870
State of Kentucky, Small Arms Received at New York Agency - October 1871
Percussion Carbine Sales - 1871-1876
Sale of Ballard Carbines - October 1882
Sales from New York Agency - June 1901
Carbine Ammunition Sales - 1901

II. The Indian Wars 1866-1891

A. Post-War Period, 1866-1873

June 30, 1866 Inventory in U.S. Cavalry
Carbines in Arsenal Storage, June 1866
Issues to the new Cavalry Regiments
2nd U.S. Cavalry issues of Spencer Carbines, September 27, 1866
Fetterman Massacre
Cavalry Field Service against the Indians, 1867
June 30, 1867 inventory in U.S. Cavalry
Serviceable Spencer Carbines in storage, January 1869
Alteration of Percussion Sharps to centerfire
Serviceable carbine ammunition in storage, October 1870
December 1870 inventory in U.S. Cavalry
Spencers and Sharps in fields service 1871-1873
Experimental Carbine M1870 in Field Service, 1872-1873

B. Trapdoor Era, 1874-1895

45-70 Springfield Carbines in Field Service, March 1874
45-70 Springfield Carbines in Field Service, September 1874
First Engagements with the Springfield 45-70
Little Bighorn, June 25-26, 1876
Ordnance Stores issued to the 7th Cavalry 1876-1877
1st & 2nd Model Hotchkiss Carbines in Field Service
2nd Model Hotchkiss Carbines issued to the 4th Cavalry 1881
Model 1877 Springfield Carbines issued between 1881-1886
Geronimo Apache Campaign of 1885-1886
Model 1886 Experimental Carbine
Ghost Dance, 1890-1891
Troop Issues of Springfield Carbines, 1890-1893

III. Foreign Conflicts 1898-1905

A. U.S. Magazine Krag, 1892-1905

Adoption of the Krag, September 15, 1892
Carbines on hand at Springfield Armory, March 31, 1898
Formation of the Rough Riders, May 1898
Issues of Ordnance Stores from Tampa, Florida Ordnance Depot
Cavalry battle at Las Gausimas, Cuba, June 24, 1898
Cavalry battle at San Juan Ridge, Cuba, July 1, 1898
Ordnance Stores issued during the Spanish-American War
Model 1898 Krag Carbines sent to the Philippines, 1899
Krag Carbines in Storage, Springfield Armory, September 30, 1899
Krag Carbines issued 1902
Boxer Rebellion, 1900

Appendix A Union Regimental Summary 1861-1866
Appendix B Confederate Regimental Summary
Bibliography
Index


ISBN: 0-917218-70-1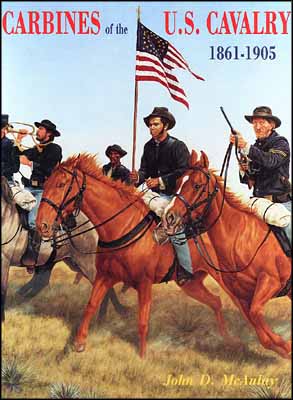 Track of the Wolf, Inc.
18308 Joplin St NW
Elk River, MN 55330-1773
Copyright © 2023Track of the Wolf, Inc.