The Complete Illustrated Guide to
Precision Rifle Barrel Fitting
-Third Edition-
by John L. Hinnant
Fitting a barrel blank to a center-fire rifle action is an involved and often misunderstood task. Information on how to do this is, for the most part, quite limited and often hard to find. In this book the author provides detailed information on the process in a series of logical, easily understood steps. With clear line drawings to illustrate the text, the reader is guided through setting the blank up in a lathe, threading, chambering, and final headspacing of the fitted and chambered barrel.

Additional information is provided on the construction of a number of essential tools such as a action wrench, barrel vise, chamber reamer handles, bolt lug lapping tool and receiver mandrel. While some would find fault with the simple binding and quality of the paper, the author provides essential information for the amateur of professional gunsmith who wants to barrel an action and who has access to a suitable lathe. 304 pages, black and white illustrations, staple binding.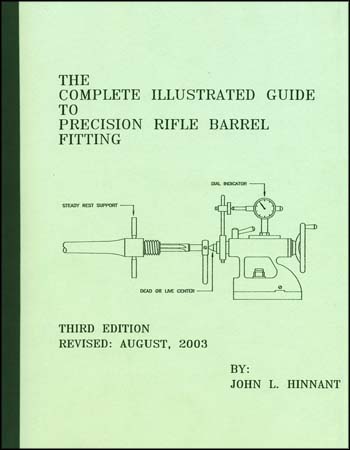 Track of the Wolf, Inc.
18308 Joplin St NW
Elk River, MN 55330-1773
Copyright © 2023Track of the Wolf, Inc.