Colt Brevete Revolvers,
by Roy Marcot & Ron Paxton
At long last the chronically misunderstood COLT BREVETE has been competently and thoroughly studied in this comprehensive treatise. BREVETE, the Belgian/French word for patent, can be found marked on many licensed (and unlicensed) antique counterparts and duplications of Samuel Colt's Hartford made percussion revolvers. This book is a comprehensive study of hundreds of mid-19th Century copies of Colt's percussion revolvers. These firearms were both authorized by the Colt factory or were outright infringements of Colt's patents. Accompanying the text are hundreds of photos with detailed facts for every revolver shown. This book has been endorsed by the American Society of Arms Collectors.

Printed on fine paper, hard bound in 12-1/4" x 10-1/4" format with 361 pages, all full color.

The Table of Contents includes the following:
Introduction
Chapter 1: The History & Development of Colt Brevete Revolvers
Chapter 2: Chronological History of Colt Brevet Revolvers
Chapter 3: Colt Brevete Revolvers - Important Considerations
Chapter 4: Colt Brevete Paterson Revolvers
Chapter 5: Colt Brevete Walker Revolvers
Chapter 6: Colt Brevete Dragoon Revolvers
Chapter 7: Colt Brevete Baby Dragoon Revolvers
Chapter 8: Colt Brevete Model 1849 Pocket Revolvers
Chapter 9: Colt Brevete Wells Fargo Revolvers
Chapter 10: Colt Brevete 1851 Navy Revolvers
Chapter 11: Other Colt Brevete Revolver Models
Chapter 12: Colt Brevete Revolvers made in other Countries
Chapter 13: Confederate Copies of Colt Revolvers
Chapter 14: Brooklyn Bridge Colt Brevete Revolvers
Chapter 15: Unusual Colt Brevete Revolvers
Chapter 16: Transitional Revolvers
Chapter 17: Makers of Colt Brevete Revolvers
Chapter 18: Colt Brevete Revolver Barrel Markings
Bibliography
Index


ISBN: 978-0-9611494-2-6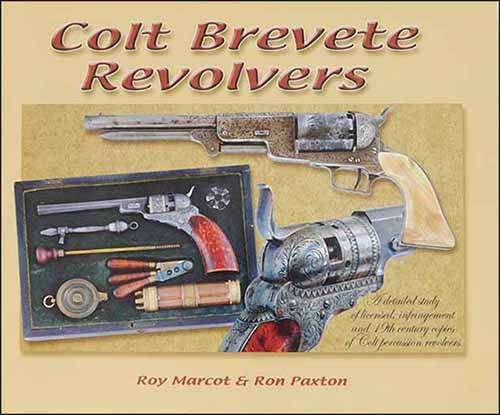 Track of the Wolf, Inc.
18308 Joplin St NW
Elk River, MN 55330-1773
Copyright © 2021Track of the Wolf, Inc.