| | |
| --- | --- |
| The Black Powder Plainsman, A beginner's guide to muzzle-loading and reenactment on the great plains | |
The Black Powder Plainsman provides a wealth of useful information on muzzle-loading and the history of the plainsmen. The author explores the lives and roles of women, plainsmen, their relationships with the Native Americans and the current status of the muzzle-loading hobby. He shares solid advice on how to get involved in historical reenacting and how to preserve the values of the early plainsmen. Clothing and big and small game hunting techniques are also explored.

Chapters include:

The hobby of muzzle-loading

The days of the Santa Fe Trail

Traders, soldiers and hunters

Black powder guns of the plains

Reenactment - how to begin

The women's role

Portraying women of the plains

Rendezvous

Black powder accessories

The black powder trek

Big game hunting

Muzzleloader shotgun hunting

Creating the historical dramatic monologue

And more!

Soft cover, 9" x 6" format, 161 pages, color photos. By Randy Smith.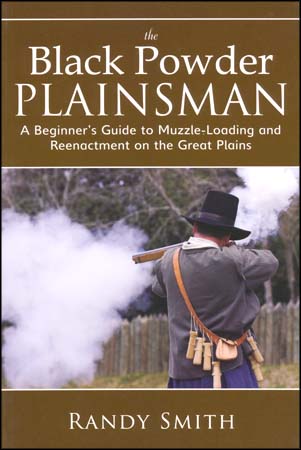 Track of the Wolf, Inc.
18308 Joplin St NW
Elk River, MN 55330-1773
Copyright © 2022Track of the Wolf, Inc.