Blunderbuss
1500-1900
by James D Forman
The "bell mouth" carbine of the highwaymen and pirates originated in the 16th century. Used by civilian and military travelers, it was made and used well into the 19th century. This history covers its development and illustrates more blunderbuss arms than have ever before appeared in one study. Soft cover, in 6-3/4 x 10" format.

The Table of Contents includes the following:
Chapter 1 In the Beginning
Chapter 2 The Blunderbuss in 17th Century England
Chapter 3 England to Midcentury 1700-1750
Chapter 4 The English Blunderbuss 1750-1800
Chapter 5 The English Military Blunderbuss
Chapter 6 Last Days of the English Blunderbuss-1800
Chapter 7 Proliferation of the Blunderbuss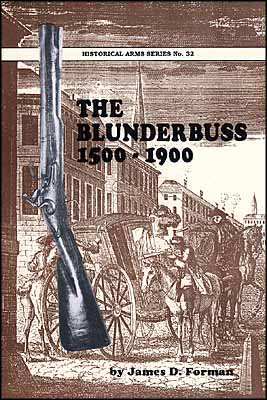 Track of the Wolf, Inc.
18308 Joplin St NW
Elk River, MN 55330-1773
Copyright © 2023Track of the Wolf, Inc.