The Art of Flint Knapping,
by D.C. Waldorf
The author describes and illustrates the simple techniques required to fashion simple or fancy stone arrow points and tools. A section on gun flints is included. The tools required are very simple and easily made, and results are fascinating. You can be making fine arrow points after only a few hours of practice.

Newest edition, 8-1/2 x 11" soft bound, 56 pages of tips, hints, illustrations and photographs. Be sure to get the companion video.

The Table of Contents includes the following:
Introduction
1. Some Preliminary Questions
2. Flint, Flint Sources and Heat Treating
3. Tools of the Trade
4. Theory and Terminology
5. Reduction Strategies
6. Finishing
7. Troubleshooting and Advanced Theory
8. Flake and Blade Cores
9. Some North American Bifaces
Closing Comments
Bibliography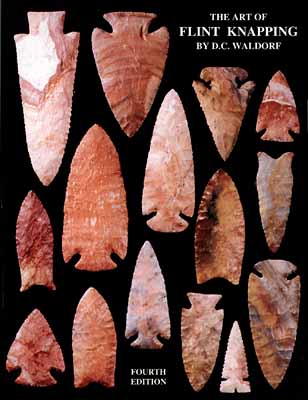 Track of the Wolf, Inc.
18308 Joplin St NW
Elk River, MN 55330-1773
Copyright © 2022Track of the Wolf, Inc.