The Art of Engraving,
by J. B. Meek
This "how-to" guide covers the entire practice of firearms and related styles of engraving. Hard bound, 8-1/2" x 11" format with 196 pages and many photographs and illustrations, this is complete imaginative and detailed introduction of the art of engraving. Aimed at the beginner, it demonstrates the basic techniques and elaborate decoration schemes of advanced design.

Every gun fancier will appreciate the examples illustrated with photography.

The Table of Contents includes the following:
Introduction
Foreword
Chapter 1 Design & Layout
Chapter 2 Materials
Chapter 3 Anatomy
Chapter 4 Lettering
Chapter 5 The Camera, Another Tool
Chapter 6 Beginning to Engrave
Chapter 7 Advanced Engraving
Chapter 8 The Gravermeister
Afterword
Tools, Materials & Supplies
Index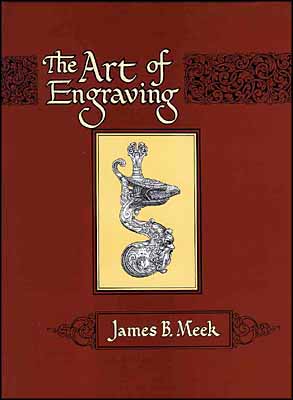 Track of the Wolf, Inc.
18308 Joplin St NW
Elk River, MN 55330-1773
Copyright © 2023Track of the Wolf, Inc.