Colonial Rifleman's Spiked Belt Axe,
2-1/4" edge, 4140 steel,
with 15" ash handle, unassembled
The Rifleman's spiked belt axe is patterned from antiques found in Colonial America. The axe head is shaped with pointed ears and a long spike. The head weighs 9.6 ounces. Wax cast steel the head measures 6-3/4" tall, with a 2-1/4" cutting surface. The 3" tall spike tapers toward the widest point of the body with the eye for the handle. Made in the U.S.A. wax cast of tempered 4140 alloy steel, a few licks of a fine file, before each day's use, will keep the edge sharp.

The carved ash handle is 15" long, with a curved grip. A wedge is included. Some assembly required. To install the handle, drive in your wedge in the slot at the end of the handle to secure the head. Wedges are easily made, or find them at your hardware store when handles are sold. Extra handles are available from Track.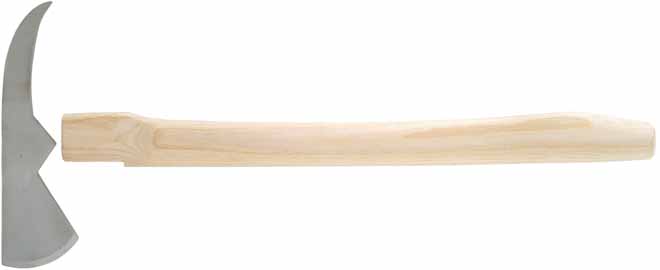 Track of the Wolf, Inc.
18308 Joplin St NW
Elk River, MN 55330-1773
Copyright © 2023Track of the Wolf, Inc.