Tennessee Longrifle,
.45 caliber, 42" barrel,
maple, forged iron trim, wood patchbox,
by Randall Buchanan
Stocked in curly maple and trimmed in hand forged iron furniture this longrifle has a Tennessee or Appalachian influence. Many period rifles from the Appalachians were assembled with maple or walnut stocks, hand forged iron furniture, set triggers and imported English locks. This unsigned rifle was built from scratch by Randall Buchanan. Trigger reach is 13-1/4" and this longrifle weighs 7.7 pounds.

The .45 caliber Rice barrel is 13/16" straight octagon by 42" long. The Rice barrel is rifled with seven lands and round bottom grooves with a slow twist for patched round ball. Rice Muzzle Loading Rifle Barrels are set between centers and milled octagonal, insuring a centered bore, concentric with the exterior, with no "run-out". Each barrel is stress relieved in an atmosphere controlled electric furnace, to eliminate work hardening or barrel warp, and to dampen harmonic vibrations or barrel whip. After the rifling has been cut, each bore is "ball burnished". A carbide bore-sizing die is pulled through the barrel, to insure bore dimension uniformity, eliminating any tight or loose spots inside the barrel. This critical procedure leaves the top of the lands smooth and polished, equaling the traditional lead lapping procedure. Rice barrels are Match grade quality, with bench rest capability. Rice barrels do not require lapping or extensive shooting to break-in. The bore appears bright in as-new condition. We recommend our .440" pure lead round ball, patched with .015" Ox-Yoke brand bulk patching, cut at the muzzle. Lubricate with our Mink Oil patch grease, beef tallow, or animal fat lubricant, for best accuracy. A steel blade front sight is dovetailed behind the muzzle. A flat top rear sight is dovetailed 10" ahead of the breech.

The curly maple stock is finished to a satin sheen. Maple is a correct choice for stock wood, known to have been used on many original rifles from the Appalachian region. The stock is stained to a golden amber brown which contrasts the silvery gray finish on the hand forged iron furniture, round faced Jim Chambers lock, and barrel. A hand forged buttplate with brazed joint protects the end grain of the stock. The buttstock is fitted with a wood patchbox with a bullet shaped end. The patchbox pivots around the front mounting screw, and latches with spring at the base. We recommend compressing the spring toward the lid while rotating to prevent dragging it on the stock. The breech is fitted with a long tang that extends down the wrist.

The toeplate and triggerguard are both retained by two screws. The triggerguard is neatly hand forged with brazed joints on the grip rail in a traditional style. The muzzle end of the stock is shaped with relief to provide access to the ramrod. The end grain of the stock is fitted with a poured pewter muzzle cap. The ramrod is shaped with a bullet wood jag. It does not have any provisions for threaded accessories. The side panel is fitted with a flush mounted lozenge style sideplate. The raised cheek piece is shaped with a few lines of incised carving. The stock does have a visible grain separation that appears to be part of the original construction and has been filled to stabilize it.

Ignition is provided by this small Queen Anne flintlock. The rounded plate, pan, and the elegant cock are of London's best style, popular from 1730 to 1770. Internally, this lock incorporates the famous small Siler parts, fine tuned for this lock. The tumbler and sear have bearing shoulders to minimize friction. The mainspring engages a cam action ramp, to minimize trigger release and accelerate lock time. The lock is finished to a dark silvery gray. The lock is well tuned and sparks very well when fitted with a 3/4" knapped English flint #FLINT-ENG-6. Below the lock a set of double lever, double set triggers has been installed on the rifle. Properly tuned and adjusted the triggers can be set and fired in any sequence. Set the rear trigger to lighten the trigger pull when at the range or leave the triggers unset for use in cold weather hunting situations. These fine triggers are a nice addition to this lovely Tennessee rifle.

A Tennessee style longrifle with hand forged iron furniture, Chamber's flintlock, and double set triggers. Order it for a ten day visual inspection. You will be delighted. Else if it does not fit you, return it in unfired condition for same-day refund. Postage is your only risk, when you order any one-of-a-kind gun from Track, whether new, used, or antique.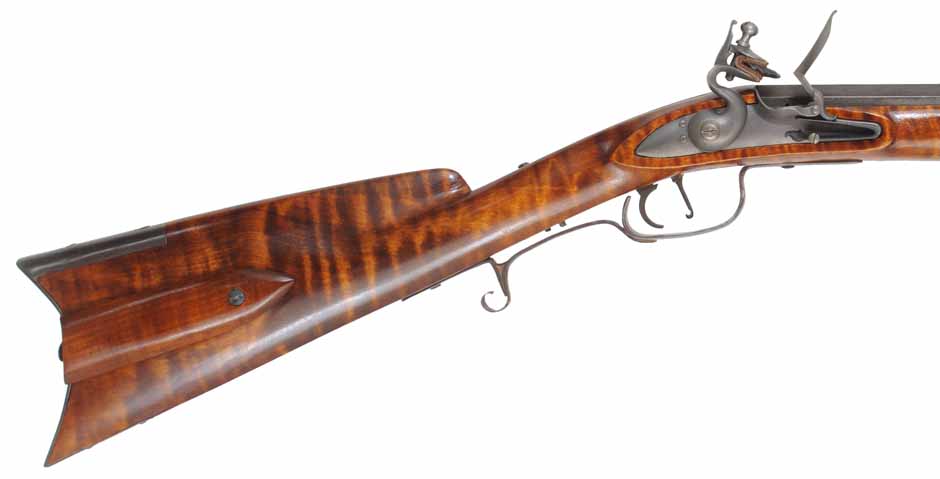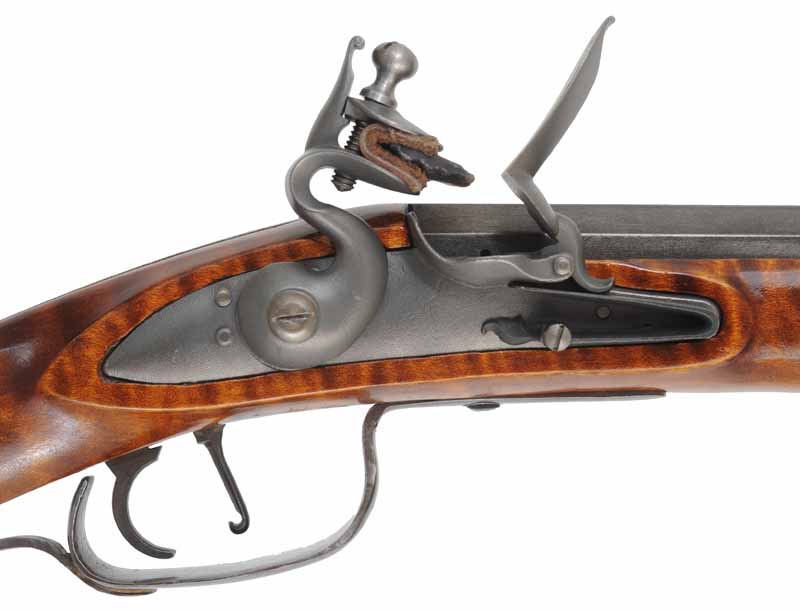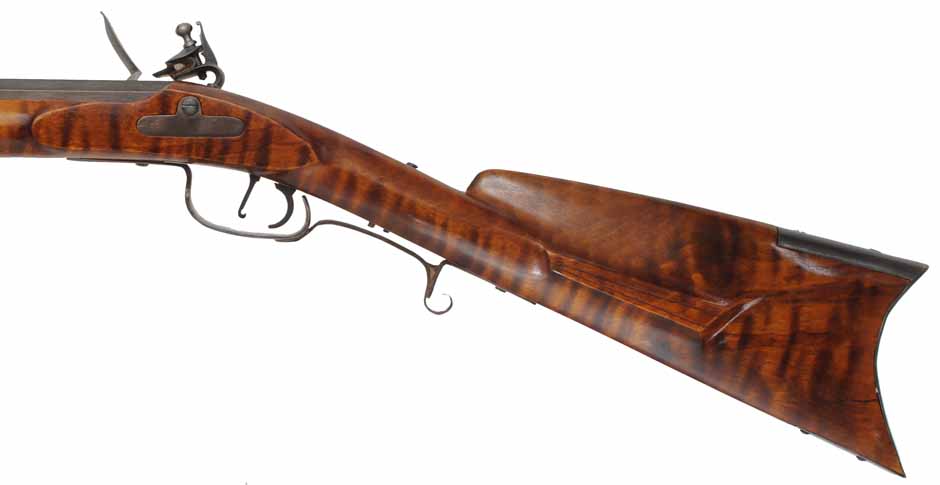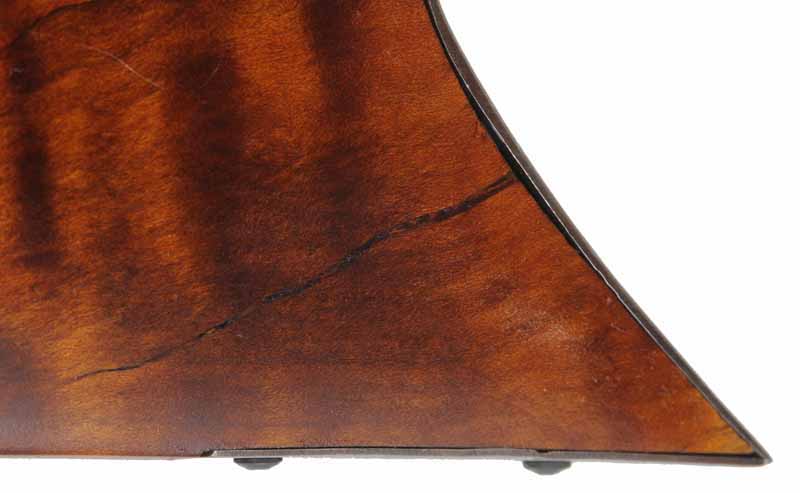 Track of the Wolf, Inc.
18308 Joplin St NW
Elk River, MN 55330-1773
Copyright © 2023Track of the Wolf, Inc.