Henry E. Leman ~ Lancaster, Pennsylvania,
.50 caliber, 32" Green River Rifle Works barrel,
Siler Mountain percussion lock, faux stripe maple,
by Les Bennet formerly of Green River Rifle Works, Roosevelt, Utah
This H. E. Leman half stock rifle was hand finished from the H. E. Leman rifle kit once made by Green River Rifle Works, of Roosevelt, Utah. Although they closed years ago, their fine rifles are highly collectible. Perhaps the most famous of the Lancaster makers, Henry Eicholtz Leman (also spelled Lehman early in his career), created a factory to produce arms for westbound settlers, in Lancaster County, Pennsylvania. This percussion half stock plains rifle is modeled after his 1840 to 1880 period work. Trigger reach is 14" to fit today's average size shooter. Weight is 8.8 pounds.

The seven groove cut rifled 1" octagon barrel is 32" length. These Green River Rifle Works (GRRW) barrels were famous for accuracy, during the 1970 era of their production. Cut rifled with seven deep equal lands and grooves, the bore is as-new. The quarter flat of the breech is stamped with GRRW, CA, L-09, LB touch mark for Les Bennet, and .50. The barrel is fitted with a steel blade front sight and a semi-buckhorn rear sight dovetailed 8-1/4" ahead of the breech.

Stocked in maple the wood has fine grain structure, and appears to be hard and dense. The stock has faux figure hand painted stripes, which was a common finish on antique H.E. Leman rifles. The stock appears as-new with no handling marks. The rifle is trimmed in brass furniture with a poured pewter muzzlecap. The buttstock has the Leman style straight line comb architecture. The single trigger and unique triggerguard with large loop and grip rail, instantly identify this as the work of Henry Leman. The single trigger is leveraged with a high pivot point, for very smooth and light trigger release. The lock has a strong mainspring, and short hammer fall, for fast lock time.

This top view reveals that the 32" octagon barrel is breeched with a round end tang. Notice the filed flats on the buttplate, which blend nicely into the comb, forming a smooth transition. Sleek and slim, this rifle is well shaped and well finished. The bottom view shows the toeplate and triggerguard. The pewter forend cap acts as the ramrod entry pipe. The ramrod is fitted with a brass tip with 8-32 threads for loading and cleaning accessories. A single lock bolt retains the lock, and a simple brass tear drop inlay serves as a sideplate. The beaver tail cheekpiece is a typical feature of plains rifles from this period.

Ignition is provided by this percussion lock, by Bud Siler, of Asheville, North Carolina. The lock has a smooth nice trigger release, short hammer travel, and fast lock time. The Siler Mountain caplock was introduced late in the production and not many of the Green River Rifle Works Leman Rifles were fitted with Siler Mountain locks. This is lucky for the new owner as spare parts, if ever needed, are available from stock. However, we doubt that the lock will ever need spare parts, since it has withstood the test of time.

Assembled from one of the GRRW original kits, by one of the original craftsmen. This is an as-new example of a Green River Rifle Works Leman Trade Rifle with period style faux stripe finish, brass furniture, maple stock, built from the best parts made in America. The famous Green River Rifle Works closed many years ago, and their rifles are prized by shooters. Order it for a ten day visual inspection. You will be delighted. Else if it does not fit you, return it in unfired condition for same-day refund. Postage is your only risk, when you order any one-of-a-kind gun from Track, whether new, used, or antique.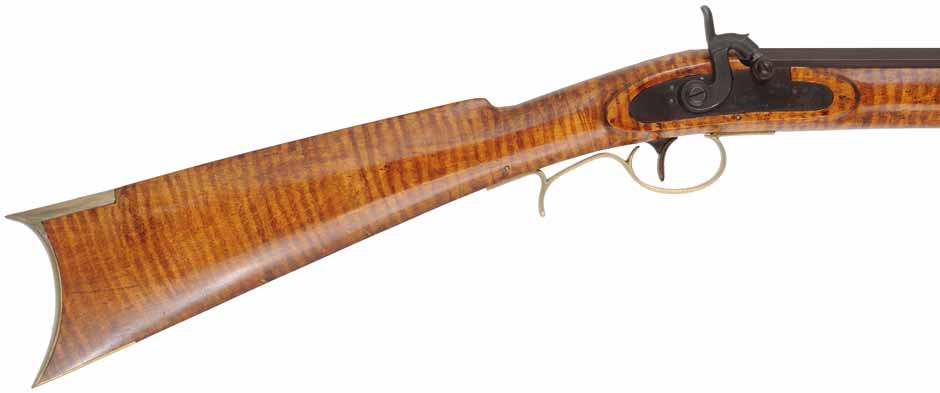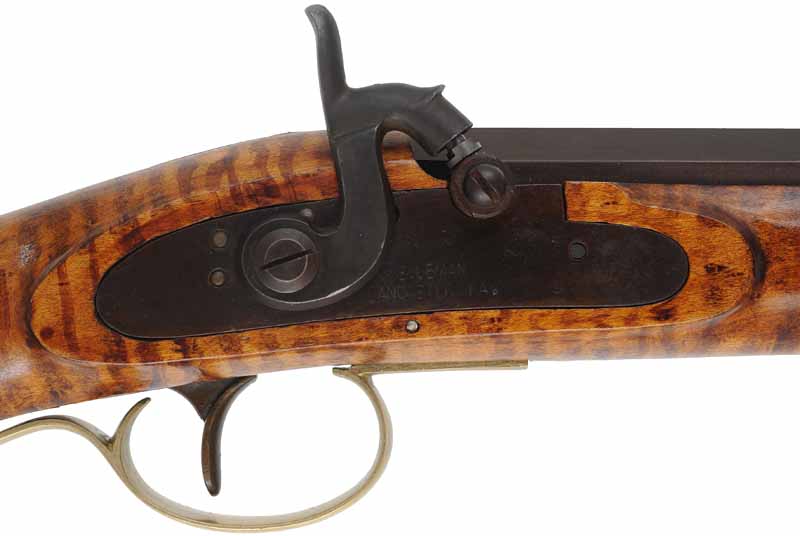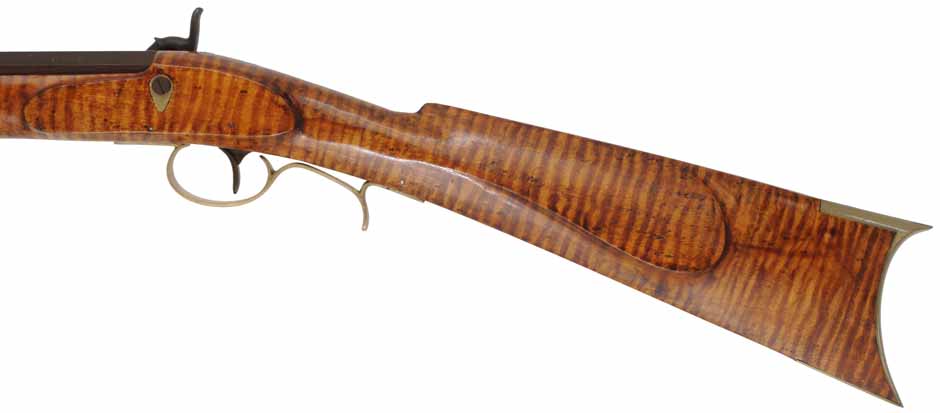 Track of the Wolf, Inc.
18308 Joplin St NW
Elk River, MN 55330-1773
Copyright © 2023Track of the Wolf, Inc.