Flat Priming Horn,
4-3/4" tall, scrimshaw sun

This attractive flat priming horn measures 2-1/2" wide at the base, 1-7/8" wide at the top, and 4-3/4" tall. The body is made of white cow horn. The horn's spout is made of brown cow horn, and has a carved wooden stopper. The front of the horn is scrimshawed with a sun peaking over the decorative border. A fine flat priming horn to put in your hunting pouch.

Order it for a ten day visual inspection. You will be delighted. Else if it does not fit you, return it in unused condition for same-day refund. Postage is your only risk, when you order any one-of-a-kind item from Track, whether new, used, or antique.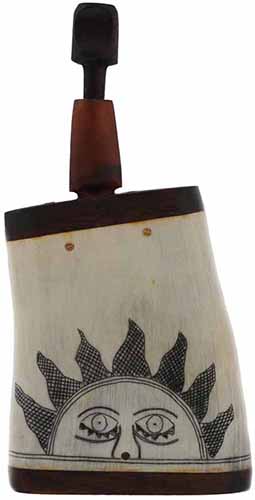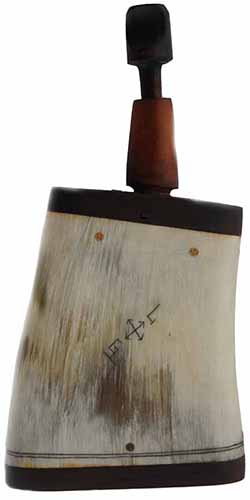 Track of the Wolf, Inc.
18308 Joplin St NW
Elk River, MN 55330-1773
Copyright © 2023Track of the Wolf, Inc.