Halfstock Hawken Rifle,
.45 caliber fast twist, 35" Orion barrel,
percussion, curly maple, iron trim,
used, by John Bergmann
Neatly fitted and finished, this Hawken rifle is offered in excellent used condition. This heavier Hawken halfstock rifle was built using Track's very best Jim Bridger's Hawken rifle parts, except for the Orion fast twist rifle barrel. This is a conservative traditional Hawken rifle, with smooth finishing, and classic shaping. Assembled by John F. Bergmann, this rifle is signed on the top flat. Trigger reach is 13-1/2", to fit a medium tall shooter. This heavy halfstock plains rifle weighs 11.7 pounds. It balances in your hands, just behind the entry pipe.

The 35" cut rifled .45 caliber barrel is 1-1/8" octagon at the breech and tapers to 1" at the muzzle, cut rifled with eight equal lands and grooves, with a 1 turn in 18" fast twist for best accuracy when shooting conical bullet loads. The bore is bright and has been well maintained. The chocolate brown finish of the barrel, lock, and iron are a smooth brown, to eliminate any glare or shine from the barrel. The octagon corners are crisp and square. A nickel silver blade set in a copper base is dovetailed 1-3/4" behind the muzzle. A semi-buckhorn rear sight is dovetailed 9-1/4" ahead of the breech. The top flat is signed John F. Bergmann and the left oblique flat is stamped .45 near the breech.

The top view shows the long tang of the slanted hooked breech that strengthens the wrist. Two captured keys retain the barrel. Remove the keys with thumb pressure, and withdraw the ramrod, before lifting the barrel from its mortise. A hooked breech allows easy hot water cleaning, without wetting the stock. Our best stainless 1/4-28 nipple for #11 cap, is fitted to the hooked snail breech. The forend is fitted with a poured pewter muzzle cap, and iron ramrod entry pipe. The snugly fitted 3/8" hickory ramrod is well finished, with an iron tip at front, threaded 8-32 to accept your loading and cleaning accessories.

The traditional iron toeplate protects the toe, ending in the traditional beavertail finial. The long trigger bar, anchored to the long tang with two tang bolts, supports and re-enforces the wrist. A hard fall will probably not break this rifle. Hawken rifles quickly became famous for reliability in the Rocky Mountains. The beavertail shaped cheek piece adds comfort for a right hand shooter, while aiming this big .45 caliber rifle. The balance point is behind the ramrod entry pipe, making the rifle slightly muzzle heavy. It will be very steady when aimed offhand. Rest shooting is ideal, since the weight absorbs recoil. The single lock bolt, and tear drop escutcheon around it, are classic features of a halfstock Hawken plains rifle, from the 1835 - 1845 era.

Ron Long, of Denver, recreated this T. Gibbons Hawken percussion lock, for the Green River Rifle Works of Roosevelt, Utah. Skillfully assembled and tuned by R. E. Davis, this is the correct Hawken lock for this fur trade era percussion rifle. Polished inside, the well tempered parts include a strong mainspring, stirrup link, and a fly detent to allow set triggers. The lock is browned to match the barrel. We note the lock plate stands slightly proud of the wood. Hawken double lever double set triggers may be set, or the lock cocked, in any sequence. Triggers fire set or unset, for target match shooting, or cold weather hunting with gloved fingers. This trigger is well tuned, with a light release, even when the triggers are not set.

With nice workmanship, correct shaping, and our best American made parts, this rifle is worthy of your consideration. This rifle will be perfect for shooting large slugs on your next big game hunting trip. Order it for a ten day visual inspection. You will be delighted. Else if it does not fit you, return it in unfired condition for same-day refund. Postage is your only risk, when you order any one-of-a-kind gun from Track, whether new, used, or antique.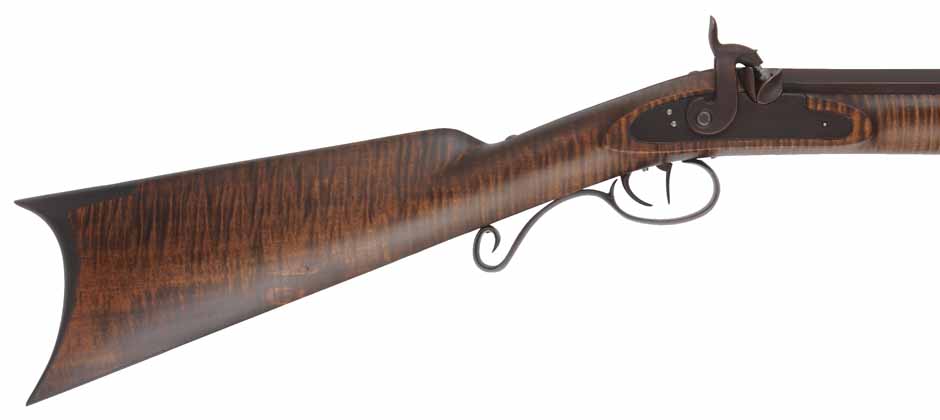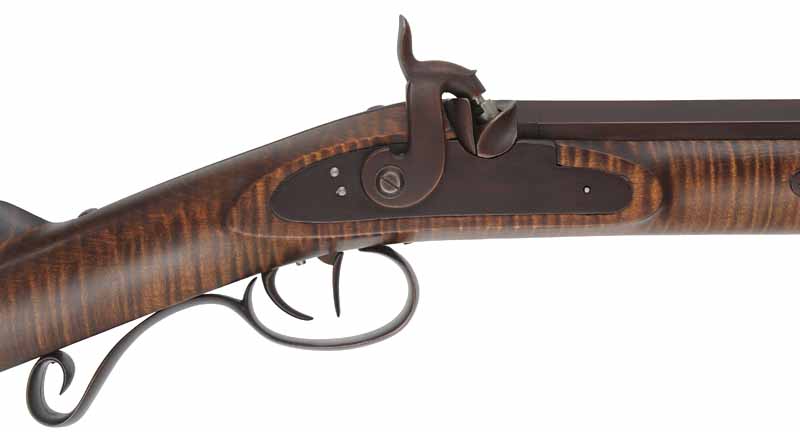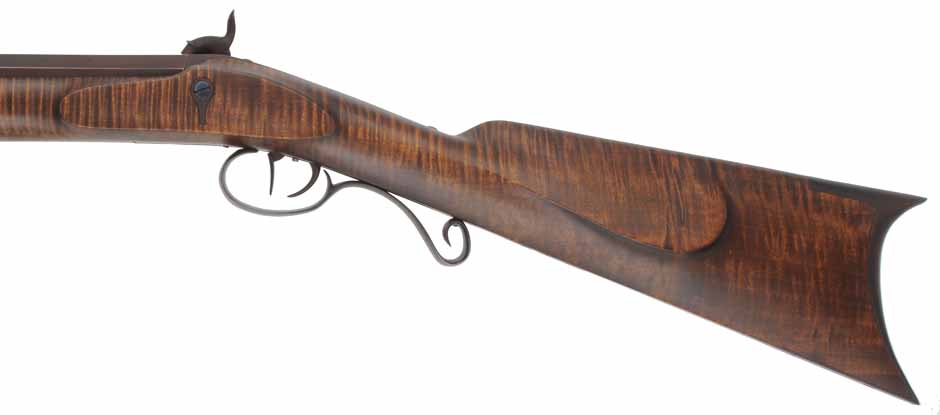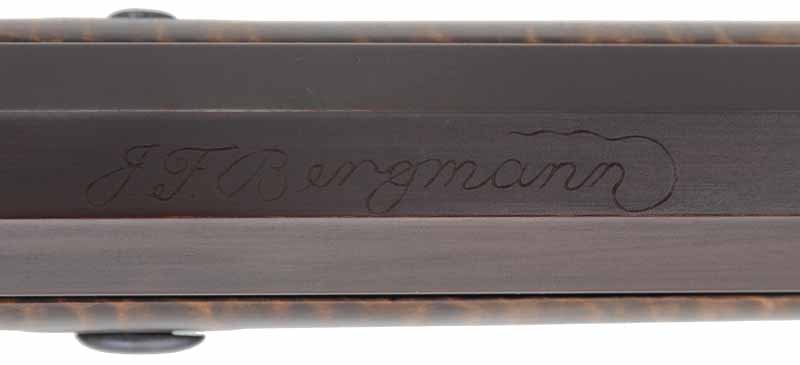 Track of the Wolf, Inc.
18308 Joplin St NW
Elk River, MN 55330-1773
Copyright © 2023Track of the Wolf, Inc.