Large Buffalo Powder Horn,
16", turned spout, brass tacks,
hand made, new, by Scott & Cathy Sibley
This beautiful hand made Buffalo powder horn measures 16" long, as measured around the outer curve from the tip to the base. The 2" long neck is made of turned antler and retained with antler pegs. A hand carved wooden stopper is fitted.

The body of the buffalo horn is pure black in color. Buffalo horn differs from cow horn and the smooth hand scraped finish displays some of the natural grain of the horn along the body. The 3" diameter domed base plug is fitted with a turned finial for securing a strap. Brass tacks with a patina finish decorate the rear of the horn along the base.

The perfect powder horn for your Hawken or Plains rifle. Hand made by Scott & Cathy Sibley. Order it for a ten day visual inspection. You will be delighted. Else if it does not fit you, return it in unfired condition for same-day refund. Postage is your only risk, when you order any one-of-a-kind gun from Track, whether new, used, or antique.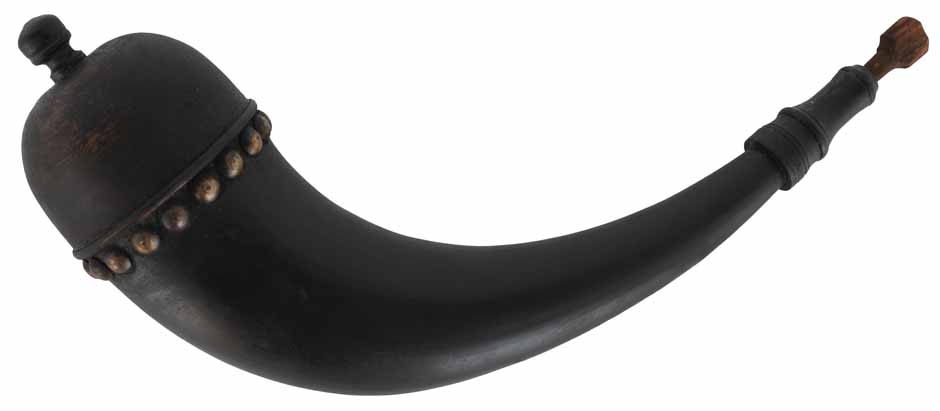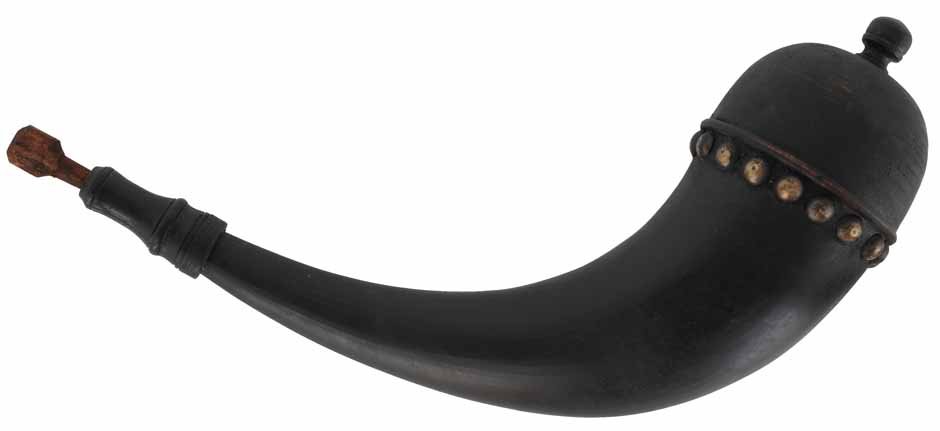 Track of the Wolf, Inc.
18308 Joplin St NW
Elk River, MN 55330-1773
Copyright © 2022Track of the Wolf, Inc.