Left Hand Blunderbuss Coach Gun,
11 gauge, 14" octagon-to-round barrel with flared muzzle,
L&R Queen Anne flint lock, maple, brass trim with aged patina,
used, unsigned
This Blunderbuss, or English Coach Gun, has a short 14" barrel with a flared cannon barrel muzzle. The .75 caliber smooth bore is ideal our 11 gauge wads and cards for shooting shot. The bore is bright and has been well maintained. The maple stock is finished to a reddish brown with a golden undertone and finished with a satin sheen. The octagon-to-round barrel and L&R Queen Anne lock are both finished to a dark brown. The brass furniture has a mellow aged patina. This hand made gun has only a 28-1/2" overall length, thanks to the 14" long octagon-to-round 11 gauge blunderbuss barrel. Trigger reach is 13" to fit todays average size shooter. It weighs 5 pounds.

The 14" octagon-to-round barrel has a 11 gauge, or .75 caliber smoothbore. The muzzle end flares to 1-1/4" diameter to allow easy loading. The bore is bright and has been well maintained, in fact the bore is large enough, and barrel short enough you can see the breech face if positioned correctly. No sights are fitted in fowling gun fashion.

The maple stock is finished to a reddish brown with a golden undertone and finished to a satin sheen. Used, the stock appears to have been well cared for and has only a few scattered handling marks. The buttstock is shaped and fitted with a wide tall buttplate that features a long stepped comb. The toe is fitted with a sling swivel and post. The forearm is fitted with a wide swivel correctly positioned to rest on the forward ramrod pipe. No sling is included. The 3/8" diameter ramrod is fitted with a flared brass tip and a threaded 8-32 tip on the opposite end for loading and cleaning accessories. The side panel is fitted with a serpent sideplate mounted with two lock bolts and the tail secured with a wood screw. The long round baluster wrist is a feature found on English fowling guns, and their short cousins, English coach guns.

Sure fire ignition is assured. This nice flint coach gun has L&R's Queen Anne flint lock. The round faced lock is unmarked and is finished to a dark brown. We recommend our best 7/8" Tom Fuller English gun flints, #FLINT-ENG-7. The brown finish at the breech displays some normal wear from firing and cleaning. Fast ignition is assured by a stainless steel vent liner, positioned well above the bottom of the pan, centered on the heat of the flash. If your flint longrifle suffers from that infamous slow whoosh-bang ignition delay, study the work of today's best gun makers, and position your vent well centered on the pan, high above the bottom, to serve as a window on the center of the flash.

Shooting this blunderbuss will be a blast! We recommend this simple and attractive smoothbore for the French & Indian War era reenactor or the Revolutionary War volunteer, seeking a suitable gun for militia duty. This longrifle is new, unfired. Order it for a ten day visual inspection. You will be delighted. Else if it does not fit you, return it in unfired condition for same-day refund. Postage is your only risk, when you order any one-of-a-kind gun from Track, whether new, used, or antique.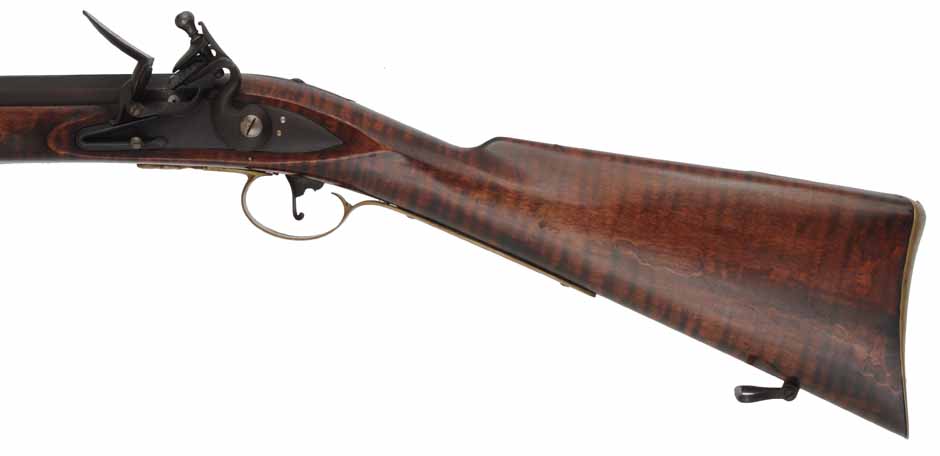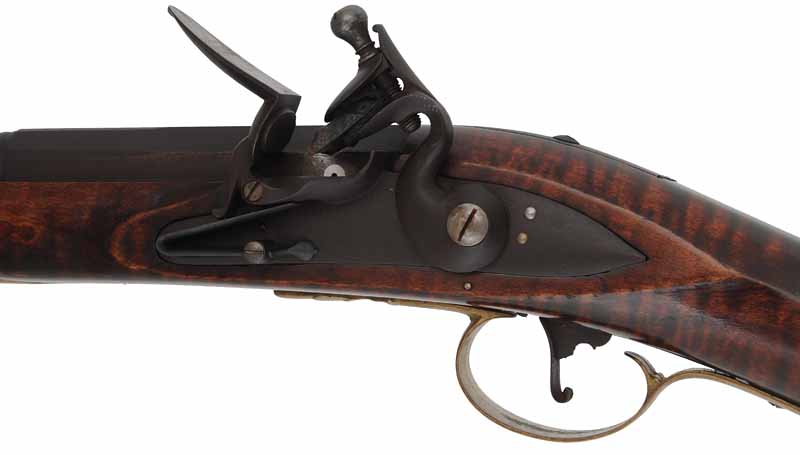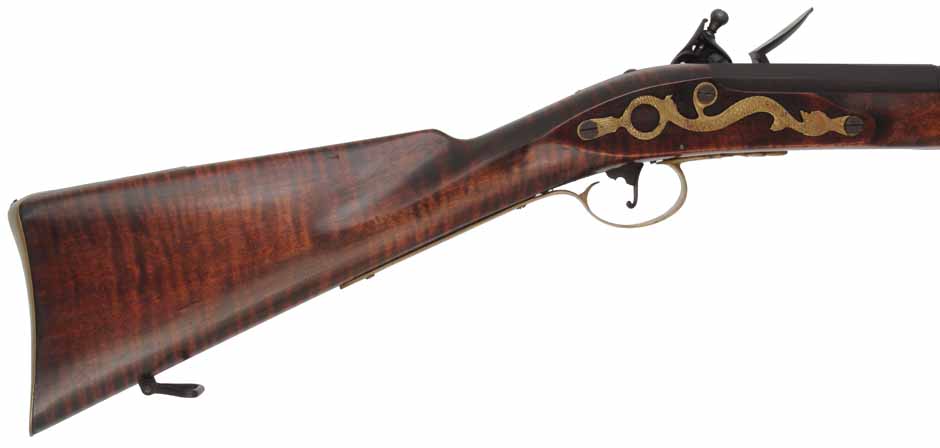 Track of the Wolf, Inc.
18308 Joplin St NW
Elk River, MN 55330-1773
Copyright © 2022Track of the Wolf, Inc.