Antique 1858 Starr Breech Loading Carbine,
.54 caliber, 21" barrel,
percussion, walnut with some chips, brass
The Starr 1858 Carbine was issued to Union cavalry during the American Civil War. This .54 caliber breech loader was manufactured circa 1862 to 1865 with the first deliveries during 1863. Just over 20,000 carbines were delivered to the U.S. government during that period. The Starr Carbines were not as popular with troopers as the contemporary Sharps carbines. The later 1865 metallic cartridge version did not prove successful in U.S. Army trials and without government orders for arms Starr would cease operation circa 1867. Trigger reach is 13" and this carbine weighs 7.3 pounds.

The .54 caliber tapered barrel is 21" long. The bore is mostly bright with some scattered pitting near the breech end. The barrel is stamped STARR ARMS CO. YONKERS, N.Y ahead of the rear sight. The elevator on the rear sight leaf appears to be frozen down. The front sight is a typical military style blade sight. The carbine was loaded from the breech by pushing the small latch on the triggerguard to the rear, rotating the triggerguard forward to expose the breech, inserting a lined cartridge into the breech, closing the breech and priming with a musket cap.

The walnut stock has a well used appearance with many handling marks. The buttstock has a chip on the toe. A crack on the left hand side panel near the action. The forearm has a missing chip on the right hand side near the action. The carbine style buttplate is brass, as is the single barrel band on the forend. No inspection marks are visible. A single iron sling ring is mounted on the left side of the receiver.

The back action percussion lock has faded to a gray brown patina. The lock plate is marked in two lines Starr Arms Co. / Yonkers N.Y.. The breech end of the action is stamped Starr's Patent / Sept 14th 1858 across the breech end of the action. The half cock notch on the lock tumbler has chipped off and the lock will only securely engage the full cock notch of the tumbler. We also note the hammer on this example sits outboard and just barely occludes the nipple. It has been dry fired enough that the nipple has actually raised the inside edge of the hammer cup. The nipple is a modern replacement.

This is a good representative example of a percussion breech loading carbine carried by Union cavalry during the American Civil War. Order it for a ten day visual inspection. You will be delighted. Else if it does not fit you, return it in unfired condition for same-day refund. Postage is your only risk, when you order any one-of-a-kind gun from Track, whether new, used, or antique.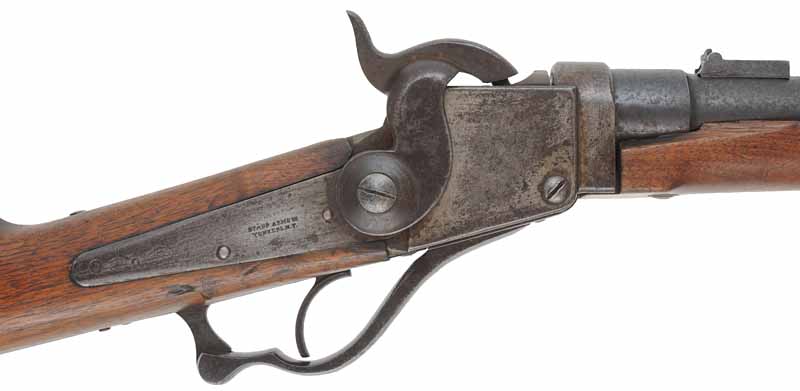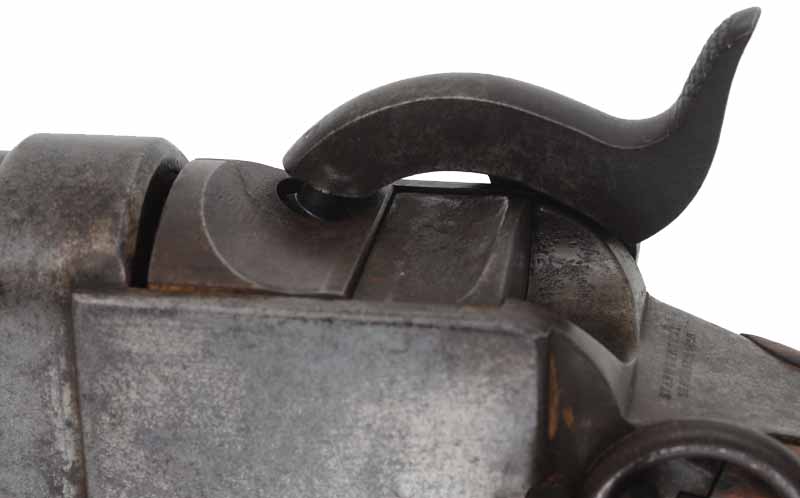 Track of the Wolf, Inc.
18308 Joplin St NW
Elk River, MN 55330-1773
Copyright © 2023Track of the Wolf, Inc.