Southern Banded Powder Horn,
14", brass tacks on base,
patina finish, new, hand made, by Scott & Cathy Sibley
Inspired by a Tennessee horn shown in the book Bone Tipped and Banded Horns Vol 2 by Jay Hopkins. This exquisite southern banded style horn measures 14" long as measured from the tip to the end of the wood plug. The horn's body is stained antique yellow with an attractive dark patina finish. The turned spout is shaped with a raised lip to secure a strap. A hand carved wooden stopper is fitted.

The horn has four radius turned horn bands measuring 3/8" wide. The horn bands are heat shrunk on the horn's body for a perfect fit, and secured using small wood pins. A 5/8" wide grooved band with brass tacks in the center decorates the rear of the horn as it transitions to the base plug. The horn's turned butt plug measures 2-1/4" in diameter, and 1-3/4" tall. A row of brass tacks decorates the end of the wooden plug. The plug has a turned wood knob for attaching a shoulder strap and adds another 1" to the overall length. This knob is threaded and unscrews to allow easy filling of the horn from the rear.

A beautiful southern banded horn, hand made by artists Scott & Cathy Sibley. Order it for a ten day visual inspection. You will be delighted. Else if it does not fit you, return it in unfired condition for same-day refund. Postage is your only risk, when you order any one-of-a-kind gun from Track, whether new, used, or antique.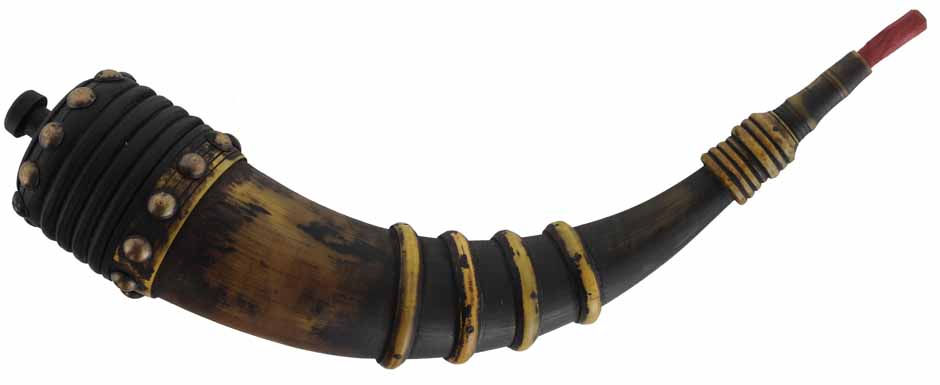 Track of the Wolf, Inc.
18308 Joplin St NW
Elk River, MN 55330-1773
Copyright © 2023Track of the Wolf, Inc.