Schuetzen Rifle,
.38 caliber, 30-1/2" octagon-to-round Goodoien barrel,
Davis percussion lock, claro walnut, iron,
guide starter, mold, new, unfired
Schuetzen matches were a popular sport in Germany as well as America in the late 1800's. Some clubs now sponsor Schuetzen events in the spirit of these old time makers and shooters. Fired offhand, the Schuetzen rules allow the special buttplate and double set triggers. This Schuetzen rifle is made for long range offhand match shooting. It features a Jim Goodoien match grade .38 caliber 1-1/8" at breech, tapered octagon-to-round barrel. The barrel is fitted with a false muzzle, and guide starter to provide best accuracy with a tightly fitted lead bullet. This rifle also comes with a bullet mold. The claro walnut stock is trimmed in iron furniture that has been polished bright. No sights are fitted on this target rifle. Weight is 11.4 pounds, ideal for offhand Schuetzen matches, where the weight makes the gun steady.. Trigger reach is 13", intended to be held close, with the Schuetzen style buttplate hooked over your shoulder and under your armpit, for very steady offhand shooting.

The .38 caliber bore is cut rifled with a fast twist, for a lead bullet. The barrel was cut rifled and hand lapped by barrel maker James Goodoien. Now retired, James Goodoien is a serious student of the best rifle barrel makers of yesterday and today, Jim has mastered their techniques. After retiring as partner and manager of a large specialty printing company, Jim has focused his efforts on creating the best rifle barrels for his fellow shooters. His hobby is shooting, and his passion is perfection. He has outfitted his shop with huge twin gun drills, rifling machines of his own design, massive milling machines, and special lathes.

Starting with selected round steel stock, Jim drills holes that are nearly perfectly straight. Bores are reamed to a mirror finish, using special reamers made in his shop. Rifling grooves are slowly cut in many passes, until correct depth. Outside flats are milled octagon to insure that the bore is perfectly concentric. Most important, a lead slug is cast in the barrel, affixed to a lapping rod, and the barrel is hand lapped until the bore is perfect. No "break-in" period is required. Goodoien barrels are ready to produce best accuracy from the first shot. The bore is bright and clean, in perfect condition. The tapered octagon 30-1/2" barrel is just under 1-1/8" across the flats at the breech, tapering 11" to a single wedding band and turned round to the muzzle. No sights are install on the barrel. The barrel is polished bright and the top flat is marked J. Goodoien / Blaine MN.

The false muzzle was invented by the famous American telescope maker, Mr. Alvin Clark, while he was experimenting with early telescopic sight designs. It was licensed to gun maker Edwin Wesson. This false muzzle covers the muzzle, and contains a deeply chamfered crown and tapered bore to start the bullet easily and perfectly. Once loaded, the false muzzle is removed to allow the ball to be fired from a perfectly square sharp muzzle, with no crown. A sharp muzzle is proven to give best accuracy, but is impossible to load, and easily damaged by careless handling. Notice the protruding brass sight block, or blinder, which alerts the shooter if he has failed to remove the false muzzle before firing. The false muzzle must made from the barrel blank, and cut rifled as part of the barrel. A lost false muzzle cannot be replaced. This is an expensive feature, not found on lesser target rifles. Although it dates from the 1840 period, it is still not allowed at some local club matches, because it provides a great advantage in accuracy over the conventional crowned muzzle. This rifle also comes with a guided starter that is made to fit over the muzzle to aid in starting the bullet. A bullet mold for a .38 caliber conical bullet is also included. These two accessories come in a red velvet lined wooden case.

Stocked in claro walnut, this rifle displays nice figure running throughout the stock. Trimmed in steel, the buttplate and trigger guard are polished bright. The buttplate heel is fitted with a round pointed brass finial. We note there are some larger inletting gaps around the buttplate and the screw heads are not filed flush. The top view shows the long tang of the hooked breech. The two tang bolts engage the long trigger plate below to strengthen the wrist. The tang bolt heads stand proud of the tang. The hooked breech allows the barrel to be easily removed for cleaning. A single brass wedge key retains the barrel to the forearm. It passes through iron escutcheon plates mounted with brass screws. The bottom view shows the polished triggerguard is pinned in the front and mounted with a brass screw in the rear. No under rib or ramrod is used in this design, since this is not a hunting rifle for field use. No cheek is carved on the left side of the buttstock. The single lock bolt passes through a French 1917 copper nickel coin that reads Liberte Egalite Fraternite 25 CMES.

Ignition is provided by an English Alex Henry right hand Percussion Bar Lock, by R.E. Davis. The drip bar is correctly soldered to the barrel. The English style hooked breech with "square" bolster is fitted with a stainless steel Hot Shot nipple. We note the front trigger can ride over the sear when it is in full-cock. This causes the trigger and lock assembly to jam up, and the lock must be removed to reset them to the correct position. The lock fires correctly when the rear set trigger is used.

This Schuetzen target rifle has a bright Goodoien barrel that is ready to have sights fitted. It will be a joy to shoot at your next long range competition. Order it for a ten day visual inspection. You will be delighted. Else if it does not fit you, return it in unfired condition for same-day refund. Postage is your only risk, when you order any one-of-a-kind gun from Track, whether new, used, or antique.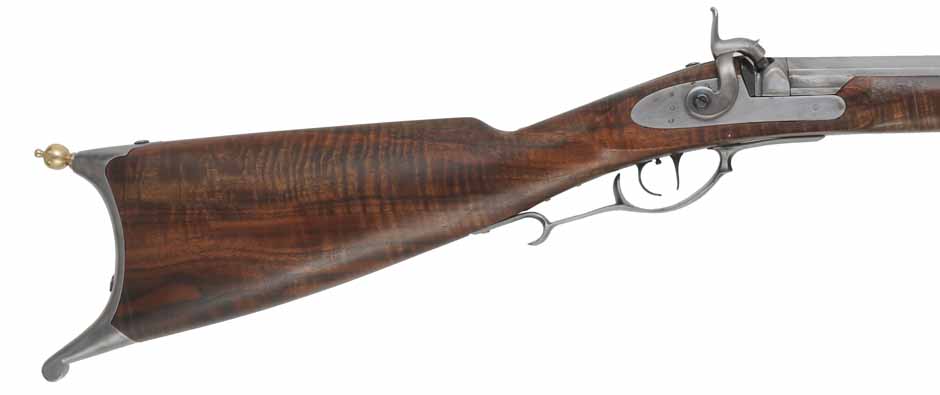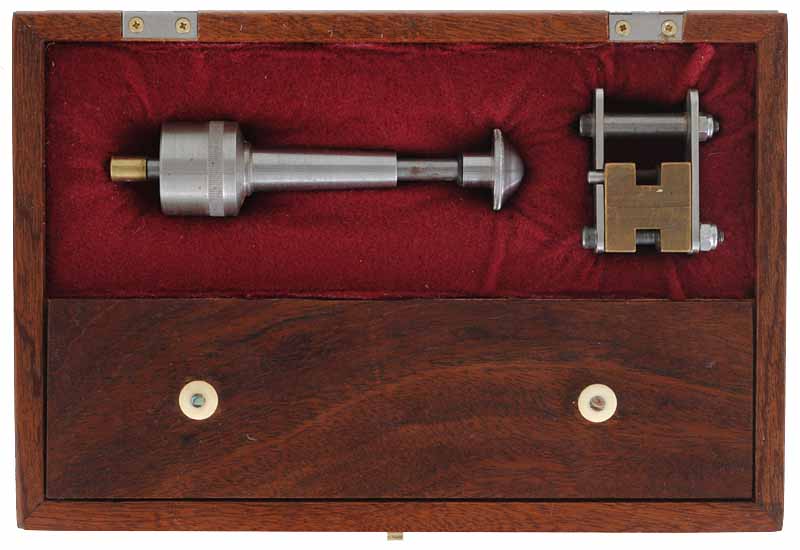 Track of the Wolf, Inc.
18308 Joplin St NW
Elk River, MN 55330-1773
Copyright © 2023Track of the Wolf, Inc.