Antique Remington Model 1900 Shotgun,
12 gauge, 2-5/8" chambers, 28" Damascus barrels,
walnut, repaired wrist, tight action,
used, by Remington Arms Co.
This antique Remington Model 1900 hammerless shotgun is stocked in checkered walnut, and has Damascus steel barrels. The barrels have mostly bright bores, with scattered pitting. This shotgun shows many handing marks and we note the wrist has a repaired crack. Trigger reach is 14" and 13", and this shotgun weighs 8.5 pounds. Fitted with Damascus barrels, this shotgun would be suitable for black powder shot shells only.

The Damascus steel barrels are 28" long and chambered for up to 2-5/8" black powder shot shells. Both bores measure .727 at the muzzles. The wire twist pattern is faintly visible on the barrels, and both have developed a brown patina. The bores are mostly bright, but do have areas of light pitting running their entire lengths. The barrel rib is marked -REMINGTON ARMS CO. ILION, NY USA-. No sights are fitted on the barrel rib.

The walnut stock is fitted with a checkered hard rubber buttplate. We note the comb of the buttplate has been broken off and replaced with a piece of wood. The pistol grip on the checkered stock is rounded. The forearms is also checkered to provide a secure grip. The buttstock has many handling marks and appears to retain its original finish. The wrist has a repaired crack. The crack can be seen running forward from the rear of the tang on both sides of the stock. The trigger guard has aged to a dark brown patina.

The hammerless box-lock action was originally color case hardened but has since taken on an aged gray patina. The safety works correctly and clicks to safe when the action is opened. Both sides of the action are marked REMINGTON ARMS CO.. The action lever is still quite tight and properly functions to "break" the action to facilitate loading and unloading of the gun. The extractor presents a cartridge for removal.

This antique shotgun has mostly bright bores with scattered pitting. The wrist has a repaired crack. This shotgun is intended for use with black powder shot shells only. Order it for a ten day visual inspection. You will be delighted. Else if it does not fit you, return it in unfired condition for same-day refund. Postage is your only risk, when you order any one-of-a-kind gun from Track, whether new, used, or antique.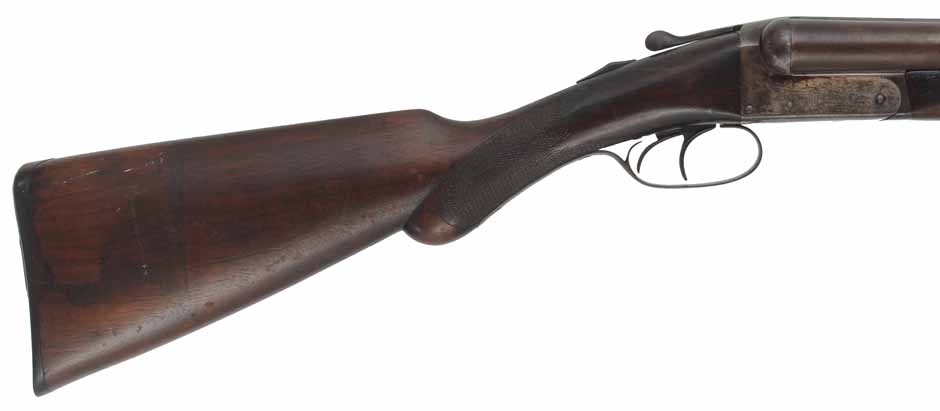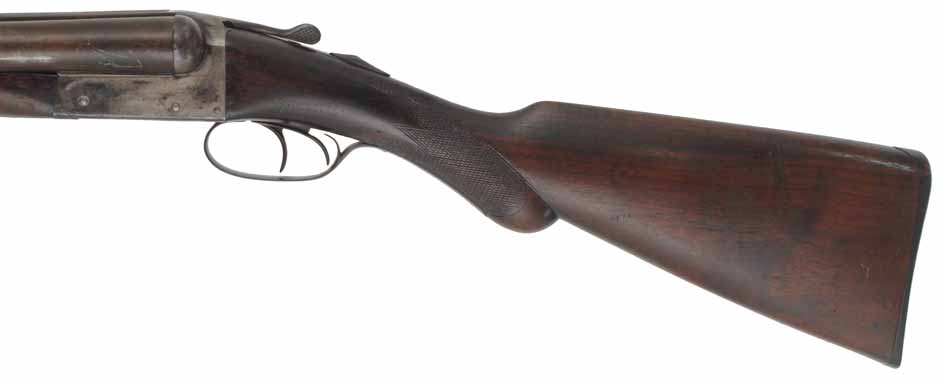 Track of the Wolf, Inc.
18308 Joplin St NW
Elk River, MN 55330-1773
Copyright © 2022Track of the Wolf, Inc.