Antique Remington Rider Pocket Revolver,
.31 caliber, 3" barrel,
percussion, hard rubber grips, aged patina,
early dovetailed cone shaped front sight
This small double action revolver was patented by Joseph Rider in 1859. Rider and his partners chose Remington to manufacture the revolvers. This small revolver is often referred to by many names such as Remington's Pocket Revolver - Double Action or Self Cocking; Double - Action or Self Cocking Pocket Revolver, or the Rider's Double - Action Pocket Revolver. Remington manufactured thousands of these and later distributed them. They were offered in a number of variations from 1860 to 1873.

The .31 caliber double action revolver has a distinctive mushroom shaped five shot cylinder. The octagon barrel is 3" in length. The .31 caliber bore has faint rifling with some scattered pitting, and the chambers of the cylinder have dark brown patina. The original blue finish has aged to a speckled gray patina. The triggerguard is nickel plated, and the revolver is fitted with hard rubber grips. The mushroom shaped percussion cylinder can clearly be seen from the top view. The frame is cut with a small groove to provide a rear sight similar to the Remington 1858 Army Revolvers. A small cone shaped nickel silver sight is dovetailed to the barrel, which is found only on the earliest examples. The barrel stamping is not well struck and only partially legible. It should read Manufactured by Remington's Illion N.Y. over Riders. Pt. Aug 17th 1858. May 3, 1859.. Only the upper line and May 3 1859 are clearly legible. The hard rubber grips are fitted to the backstrap. The bottom of the grips has a attractive scalloped edge. The large oval triggerguard is plated nickel silver. The inside of the trigger bow is marked with the serial number 491. The bottom flat of the barrel is also marked with the same serial number, although it is much fainter.

This small pocket revolver is nearly symmetrical, except for the notch in the recoil shield to allow for priming, and could easily be used right or left handed. The revolver mechanically functions in double action mode. The cylinder pin can be removed, and the cylinder dismounted. All the nipples have a dark brown patina around them. We did not attempt to remove any of the nipples.

Order it for a ten day visual inspection. You will be delighted. Else if it does not fit you, return it in unfired condition for same-day refund. Postage is your only risk, when you order any one-of-a-kind gun from Track, whether new, used, or antique.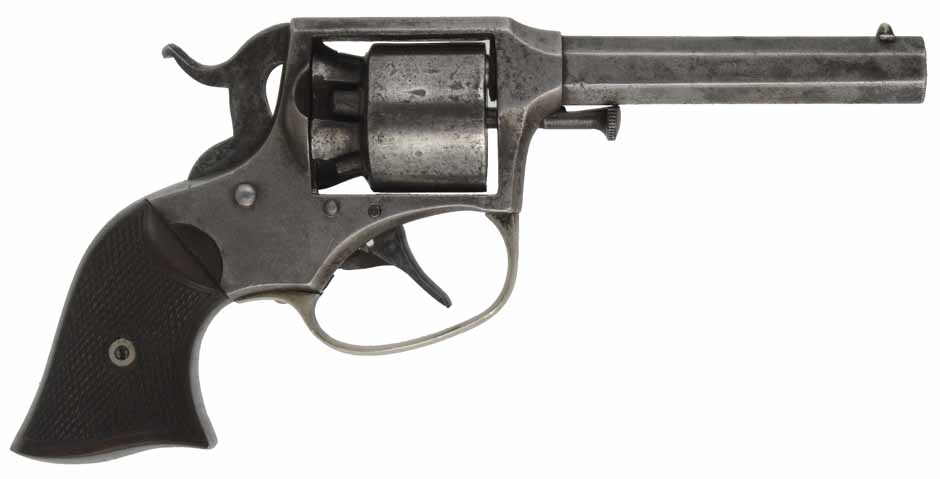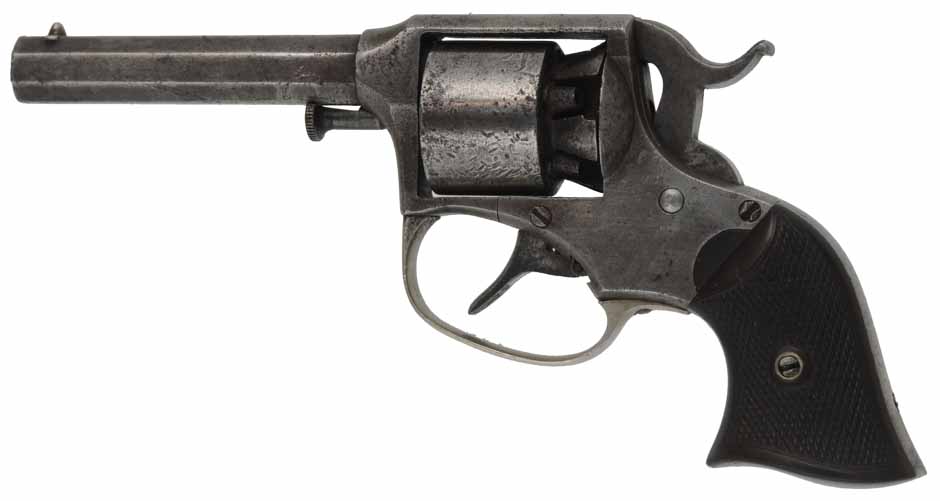 Track of the Wolf, Inc.
18308 Joplin St NW
Elk River, MN 55330-1773
Copyright © 2022Track of the Wolf, Inc.