New England Fowling Gun,
.69 caliber smoothbore, 44-1/2" tapered round barrel,
Chambers Germanic flintlock, claro walnut,
brass trim, by R. Noyes
This unsigned fowling gun is attributed to contemporary maker R. Noyes. This 1750 era smoothbore fowling piece appears to be influenced by those early homegrown fowlers found in Tom Grinslade's work, Flintlock Fowlers , the First Guns Made in America. This large bore fowler is stocked in claro walnut and is trimmed in brass furniture. Weighing 8.9 pounds, the fowler has a trigger reach of 13-5/8" making it well suited for today's average size shooter. This fowler is as-new with only a few strikes on the frizzen face.

Forming the heart of the fowler is a .69 caliber smoothbore, 14 gauge, tapered round barrel measuring 44-1/2" in overall length. The barrel has been finished to a smooth dark brown. Strangely it does not have a front sight. The .69 caliber bore is bright and appears to be as-new. We recommend using our 14 gauge wads and cards with lead or bismuth shot with this smoothbore, or shoot a patched round ball.

Stocked in claro walnut with stock has a deep reddish tone with some darker pattern visible and has been finished to a satin sheen. The fowler has a very Germanic or Dutch style butt architecture. The wide, tall, buttplate has a large thumbnail comb. The wide flat butt end and weight should evenly distribute any felt recoil from this 14 gauge fowling piece. Ahead of the comb the wrist flares into the tapered lock panels which accommodate the 1-1/4" breech on the barrel. The lock panels gently taper into the forearm in early long gun fashion. The 14 gauge barrel is tapered round to the muzzle. The forend of the stock is well back from the muzzle end of the barrel, in 18th century military musket fashion. You also see this feature on some Colonial militia muskets.

The toe of the buttstock is rounded and tapers into the wrist. The brass Germanic style triggerguard has a wide bow for the single trigger and is mounted in early fashion with both a pin and screw. The three ramrod pipes are a bulbous Germanic style. The 3/8" diameter ramrod does not have any tips or provisions for threaded accessories. Our backside view of the gun shows off the large side panel fitted with a brass serpent sideplate.

Ignition is sure-fire, provided by this Germanic style flint lock, by Jim Chambers. This lock has a 1750 to 1760 appearance with a gently curved "banana" shaped lock plate. The cock points directly into the octagon pan. The early "forged" style separate pan has no pan bridle arm. An oversize shouldered screw serves as a frizzen pivot bearing. The large tumbler and sear have raised bearing rings to minimize friction This flint lock is fast, with a strong mainspring. It will spark well. Order a dozen of our best 7/8" French amber flints for best performance. . The barrel has a direct drilled vent hole.

Appropriate for the mid to later half of the 18th century the gun could well have seen use into the early 19th century if properly maintained. This fowler will make an excellent addition to any black powder collection or 18th century Colonial militia impression. This fowler is new, unfired. Order it for a ten day visual inspection. You will be delighted. Else if it does not fit you, return it in unfired condition for same-day refund. Postage is your only risk, when you order any one-of-a-kind gun from Track, whether new, used, or antique.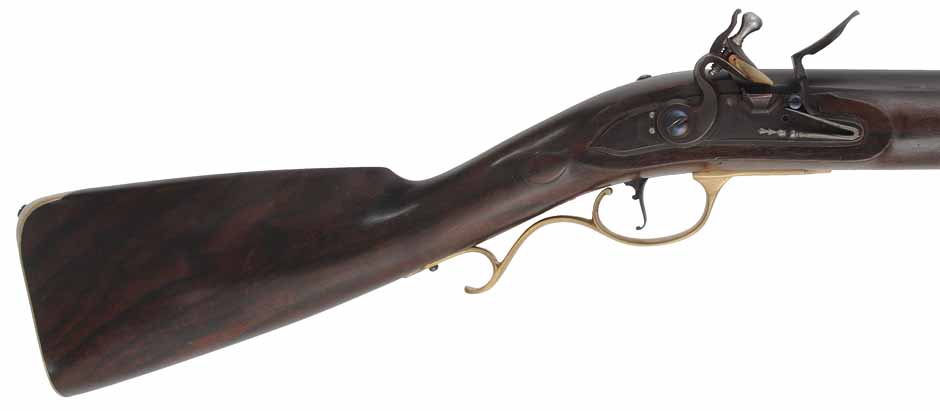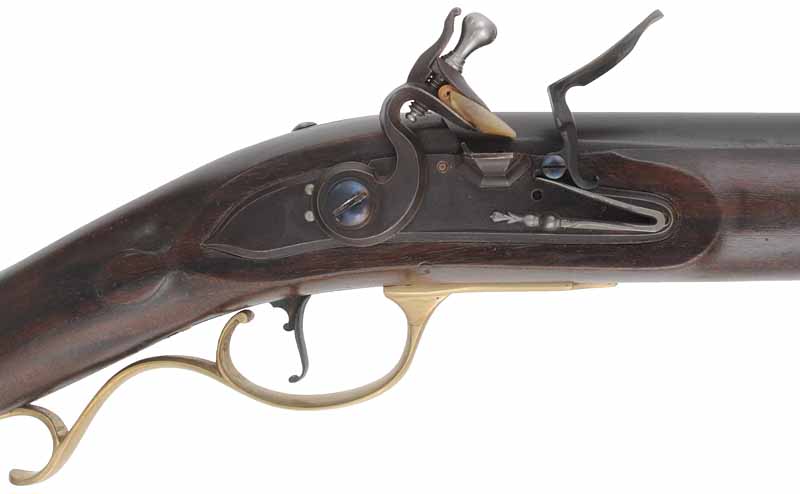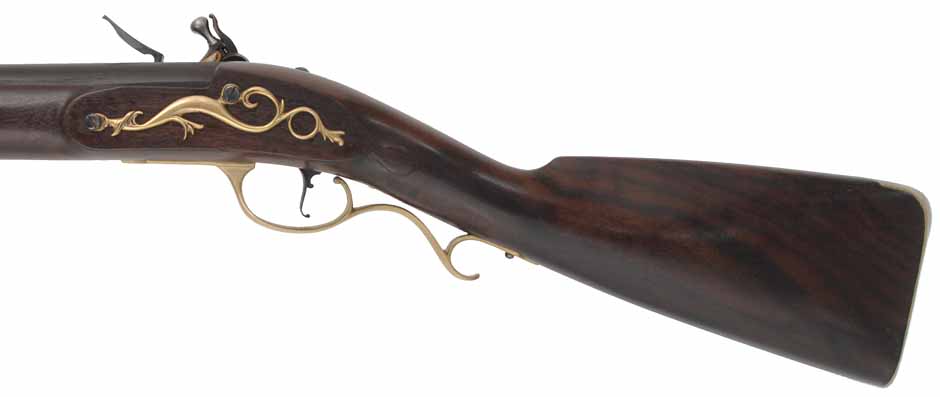 Track of the Wolf, Inc.
18308 Joplin St NW
Elk River, MN 55330-1773
Copyright © 2021Track of the Wolf, Inc.