Thompson Center White Mountain Carbine,
.50 caliber, 28" T/C Hawken barrel,
walnut, blued, rubber recoil pad, sling studs, fiber optic sights, used
This handy Thompson Center White Mountain Carbine has been fitted with a .50 caliber Thompson Center Hawken barrel. The black walnut stock has very straight grain, and is fitted with the factory black rubber recoil pad. This rifle has been neatly refinished on the wood and metal. Trigger reach is 14-1/4" to fit today's taller than average size shooter. Weight is a modest 7.8 pounds, so you can carry hunting all day. This example has sling swivel studs to mount a quick disconnect sling.

The .50 caliber T/C Hawken barrel is 28" by 15/16" octagon. The .50 caliber bore is bright and has been well maintained. The bore is rifled with a 1 in 48" twist for use with either a patched round ball, or a T/C Maxi ball. The barrel is fitted with a red fiber optic front sight and adjustable fiber optic rear sight. The rear sight is screw adjustable for windage and elevation. You can dismount the barrel for ease of cleaning, simply push the wedge key out, using our brass drift #TOOL-KEY-B, remove the ramrod, and lift the muzzle end, to unhook the plug from the tang. Hunters like the ease of cleaning percussion guns, when they have a hooked breech.

Stocked in American black walnut the stock is very straight grain, ideal for a hunting rifle. The butt is fitted with a factory installed T/C rubber recoil pad. The triggerguard has a wide bow to allow easy access to the single trigger with a gloved hand. Sling swivel studs are ready to accept quick disconnect swivels. This carbine is fitted with a wood ramrod with blued steel tips with 10-32 threads for loading and cleaning accessories. The single lock bolt has a blued steel washer style side plate.

Our lock view shows the color case hardened percussion lock, factory engraved by Thompson Center. The lock has bright colors with a few small bright spots on the edges. The breech is fitted with a 1/4-28 threaded stainless steel nipple. This lock works smoothly, with a strong mainspring, and fly detent. The trigger provides a smooth release of the lock.

Fitted with a T/C Hawken barrel this rifle is a handy length and weight for a hunting rifle. Order this carbine today. Order it for a ten day visual inspection. You will be delighted. Else if it does not fit you, return it in unfired condition for same-day refund. Postage is your only risk, when you order any one-of-a-kind gun from Track, whether new, used, or antique.

We invite trades, and we buy T/C guns. If you have a used Thompson Center Seneca, Hawken, Cherokee, Renegade, Patriot Pistol, New Englander, or other muzzle loading side hammer rifle, please consider our service when you are ready to sell. Our customers like these well made American guns, for their reliable service, durable reputation, accuracy, and good value.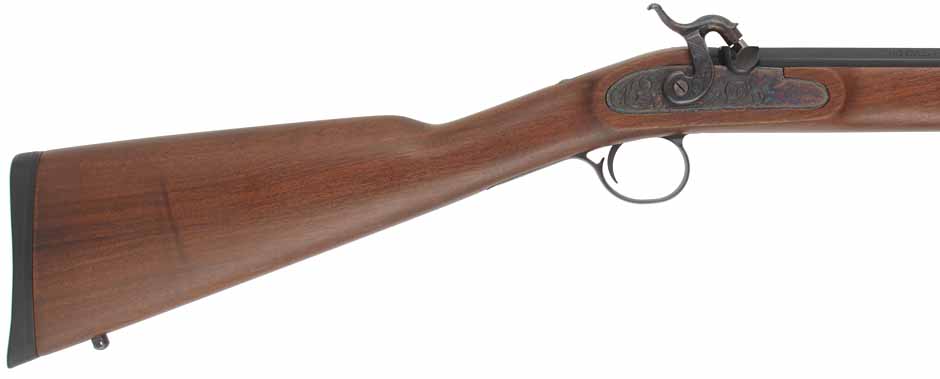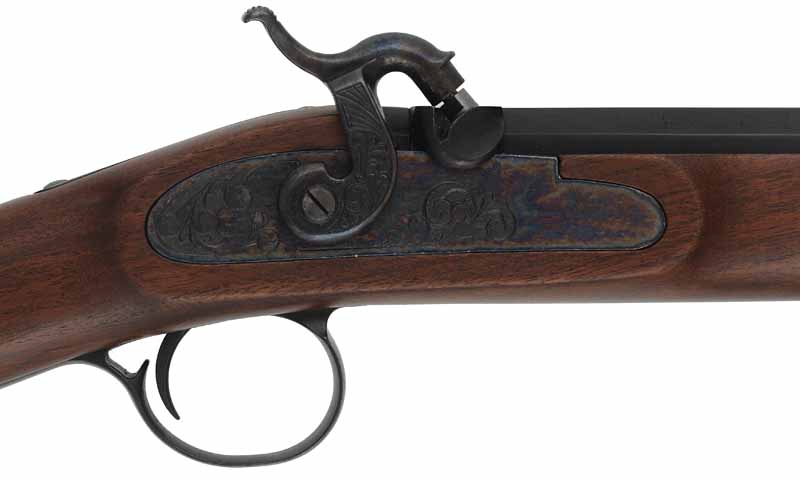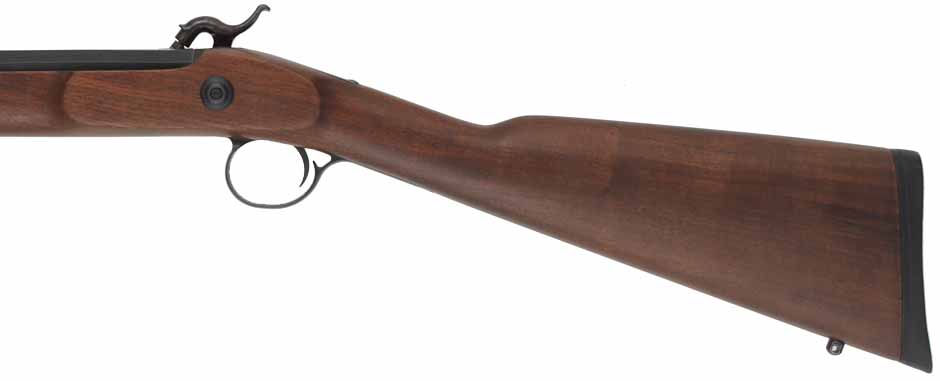 Track of the Wolf, Inc.
18308 Joplin St NW
Elk River, MN 55330-1773
Copyright © 2021Track of the Wolf, Inc.