Henry E. Leman ~ Lancaster, Pennsylvania,
.54 caliber, 34" Colerain barrel,
L&R late English flintlock, maple, brass,
new, by Mike Sullivan
Perhaps the most famous of the Lancaster makers, Henry Eicholtz Leman (also spelled Lehman early in his career), created a factory to produce arms for westbound settlers. This flint longrifle has 1830 era Lancaster County style architecture and furniture, and is modeled after Henry Leman's earlier work. This rifle was assembled by contemporary builder Mike Sullivan. Trimmed entirely in polished brass, stocked in maple, the L&R late English flintlock and straight octagon .54 caliber Colerain barrel are finished to a smooth brown finish. Trigger reach is 13-3/4", to fit todays average shooter. This rifle weighs 9.3 pounds.

The .54 caliber 34" long Colerain barrel is 1" straight octagon. The bore is cut rifled with six lands and radius grooves with a 1 in 56" twist for a tightly patched round ball. Colerain rifle barrels are drilled from solid steel, cut rifled with six "round bottom" grooves. Called "radius groove rifling", Colerain eliminates the sharp inside corner that accumulates fouling. Radius groove rifling cutters are a bit more expensive to make, but Colerain's customers agree that the accuracy, easy loading, and easy cleaning are worth the cost. The bore is bright in new unfired condition. The exterior is finished to a smooth chocolate brown. A silver blade front sight set in copper base is dovetailed 1-1/2" behind the muzzle. A semi-buckhorn rear sight is dovetailed 6-1/4" ahead of the breech.

This fullstock is stocked in maple stained to a deep cherry red. The inletting is exceptional on this rifle. The buttstock has the sleek late Lancaster County shape, with a straight comb line. The gently curved buttplate fits your shoulder well, and spreads the modest recoil of this .54 caliber longrifle over a comfortable area. The brass patchbox with asymmetrical head and offset side panels is patterned from an antique rifle. The door is opened with a push bottom from the comb of the buttplate. Beneath the door is a deep cut cavity to store flints, jags, or other shooting accessories.

The toe is protected with a short straight brass toeplate, mounted with one steel screw. A toeplate protects the critical toe area of the stock while loading. The brass triggerguard with finger spur is retained by pins. The round brass ramrod pipes secure the 7/16" diameter hickory ramrod. The ramrod is fitted with a brass tip with 8-32 threads for loading and cleaning accessories. A brass muzzle cap protects the endgrain of the forearm. A square cheek provides a secure rest when aiming this large bore rifle. A single lock bolt passes through a brass tear drop shaped sideplate.

Ignition for the rifle is provided by an L&R flint lock with re-enforced double throat cock. This lock has a water-proof pan, roller bearing frizzen spring, stirrup link, and stiff mainspring. Turned raised bearing rings on the tumbler and sear minimize friction. We recommend our 3/4" knapped English flints for use with this lock. The lock is finished to the same smooth brown as the barrel. The single trigger is pinned to provide a smooth release of the lock. Helping the ignition process further is a stainless touch hole liner installed slightly above the level of the pan in the "sunset" position.

This H.E. Leman rifle would be very appropriate for an early 19th century fur trade impression. In new, unfired condition by contemporary builder Mike Sullivan, this rifle is ready to shoot. Order it for a ten day visual inspection. You will be delighted. Else if it does not fit you, return it in unfired condition for same-day refund. Postage is your only risk, when you order any one-of-a-kind gun from Track, whether new, used, or antique.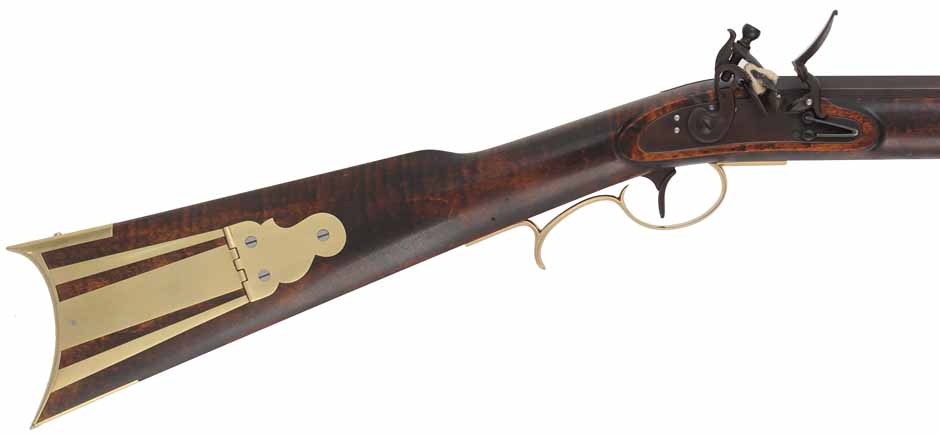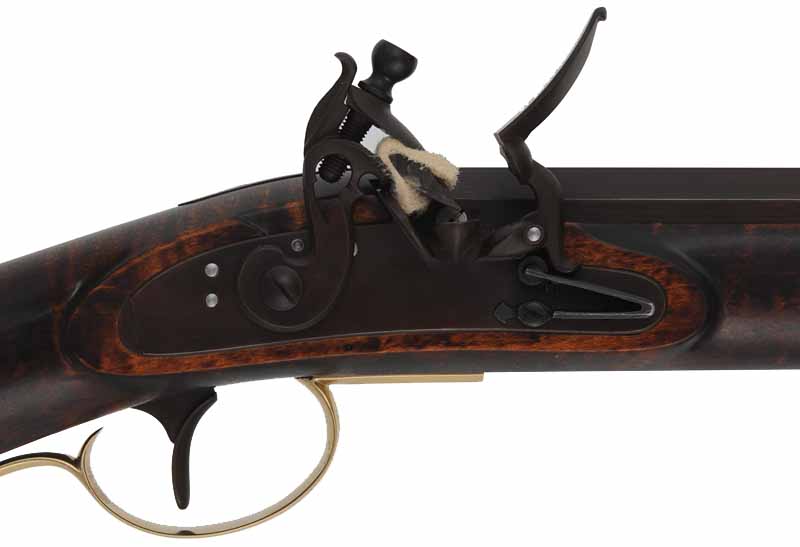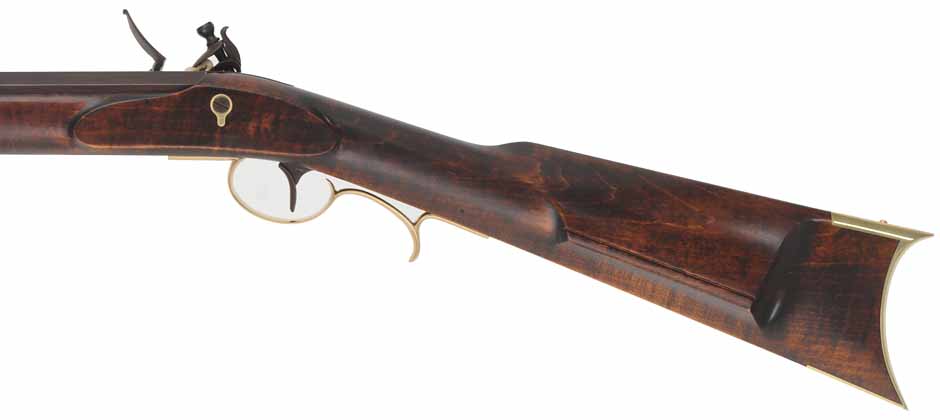 Track of the Wolf, Inc.
18308 Joplin St NW
Elk River, MN 55330-1773
Copyright © 2021Track of the Wolf, Inc.