Antique Trade Pistol,
.63 caliber, 7" barrel, flint lock,
walnut, brass, marked Barnett
This antique pistol has British proof marks on the tapered round barrel, and is marked Barnett on the lock plate. It is attributed to English gunmaker John Edward Barnett. Stocked in European walnut, and trimmed in brass furniture, this antique pistol has a warm patina. This pistol would be a typical trade pistol from the early 19th century.

The 7" tapered round pistol barrel is marked with the London Gunmaker's Company proof and view marks. A wedding band decorates the rear of the barrel near the breech plug. The barrel has aged to a silvery patina with dark areas of pitting. No front or rear sight was fitted, typical of a military style pistol designed to be used at close range. The .63 caliber bore is dark and pitted.

The walnut stock shows many handling marks from over two centuries of use. There is a small crack running through the side panel from the upper lock bolt to the barrel. There is a 1/2" crack extending from the tail of the lock plate. The initials TG have been stamped in the side panel. The brass trigger is retained with a pin up front and a screw in the grip rail. The brass butt cap is retained with a steel screw. The tapered wooden ramrod passes through a single brass ramrod pipe. Two bolts pass through the military influenced brass sideplate to secure the lock on the opposite side.

The double throated cock and lock plate are original to this pistol, and have aged to the same patina as the barrel. The plate is marked BARNETT. The frizzen is a modern replacement, and it still has the casting gate visible on the face as well as parting lines. The lock has a strong mainspring, a smooth trigger release, but we note it will not hold half-cock. We also could not get the top jaw screw to turn by hand.

If only this 200 year old pistol could tell us its history! With a wonderful warm patina, this pistol will be a great conversation piece to display. Order it for a ten day visual inspection. You will be delighted. Else return it in same condition for same-day refund. Postage is your only risk, your cost of inspecting our offerings, when you order any one-of-a-kind gun from Track, whether new, used, or antique.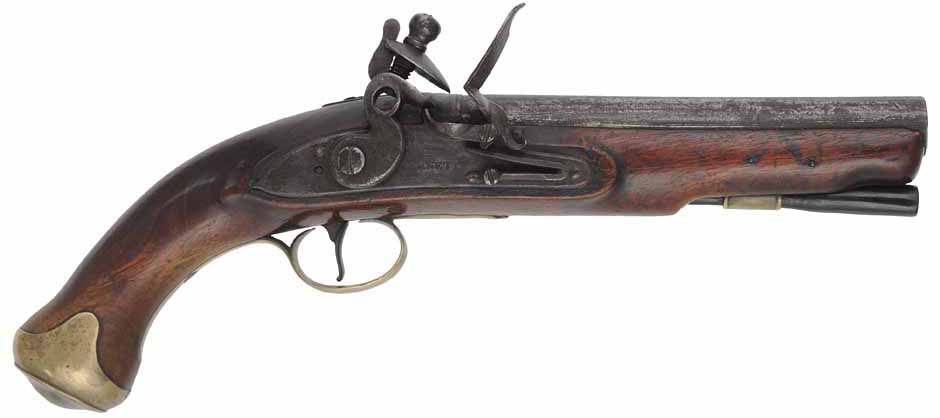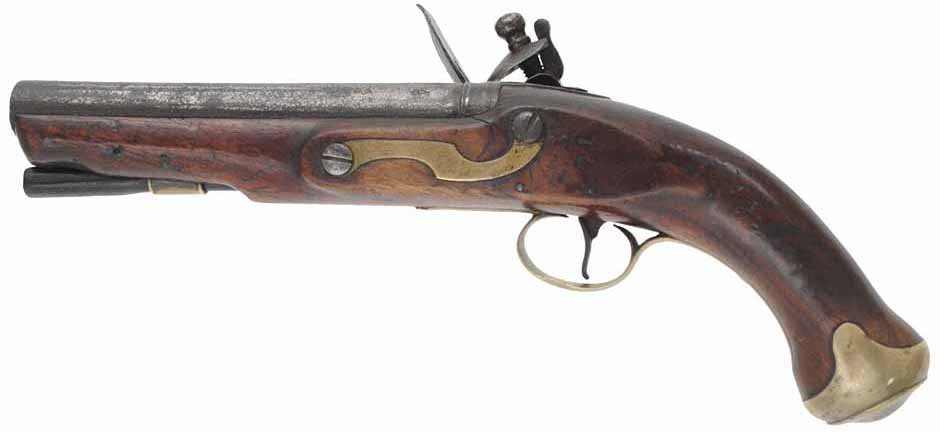 Track of the Wolf, Inc.
18308 Joplin St NW
Elk River, MN 55330-1773
Copyright © 2022Track of the Wolf, Inc.